Dunedin pie company sees opportunities in Australia and Asia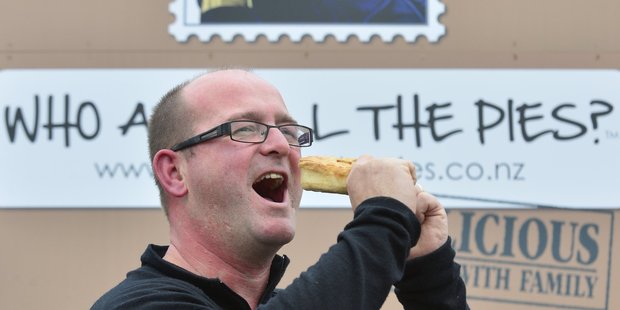 When Englishman Steven Turner emigrated to New Zealand five years ago, his eye was on buying a reasonable family home in his wife's home town of Dunedin.
Instead, he spent the house deposit on Who Ate All the Pies, a pie venture started by a couple of local chefs.
"Where I'm from in Lancashire we're known as pie eaters by the rest of the UK so I've got a background in pies just culturally," says Turner, 42.
He has also been a business consultant and ran a catering firm, so after dissecting the pie enterprise Turner knew it had the right ingredients for a tasty business opportunity.
Turner immediately made some changes, stripping back the business, dropping the wholesale side and reformulating the fillings.
He spent 18 months just getting the contents for the mince pie - his favourite - bang on.
Fillings based on venison, salmon, ostrich, hare and steak are encased in an English-style pastry using lard, which Turner says makes it lower fat and crispy.
While the fillings sound fancy, Turner is keen to distance himself from the gourmet tag. Instead, he uses the Lancashire colloquialism "proper", often seen on authentic, locally produced British food. He has also chosen to set affordable prices for the family-sized pies in classic flavours like mince, steak and a recently launched Lancashire-style meat and potato pie.
"I sort of feel pies should be available to everybody."
After gaining momentum at the Dunedin farmers' market, Turner turned his attention back to the wholesale market, with redesigned packaging that features his caricature scoffing a pie.
The pies are now stocked in supermarkets, specialty food stores and cafes from Auckland to Te Anau.
Six months ago demand outstripped supply and the business outgrew its original premises. Turner is now in a 400sq m factory space, formerly a fish processing plant, that came complete with blast chillers, and says he's got the production capacity to talk to the big guys. "It's got massive development potential in it as we grow."
Turner says he watches cashflow "like a maniac" and his disciplined approach and new facility has seen growth skyrocket. Sales are up 120 per cent on six weeks ago and Turner says it's possible the business will hit a 200 per cent growth target this year.
The demand has meant seven extra staff added to the pie-making team since April last year, when he had only three.
Turner also has his eye on exporting to parts of Asia and to the country that reckons the meat pie is its national dish, Australia.
"As an Englishman, never mind being a Kiwi, I'm looking forward to trading pies with the Aussies because I think ours are far superior."
Turner says having enough time for everything, including his family, has been the biggest challenge of his growing business.
"You've got to be the HR man, you've got to be the cleaner, you've got to be the delivery boy, you've got to do everything because you can't afford the wages.
"I don't know if it will ever pay me back financially for the hours worked, to be honest with you."
It also means delayed gratification.
"I've still not got a house," says Turner.