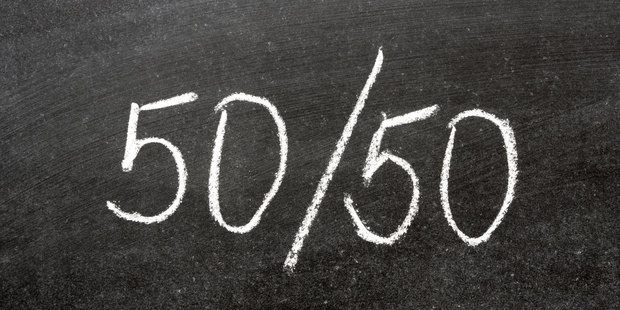 I read some interesting comments a while ago that suggested many businesses spend up to 85 per cent of their efforts on making first time sales to brand new customers.
And only 15 per cent of their efforts on creating repeat and referral sales from existing customers.
I think this is a common mistake many of us make in business. (And I've often been guilty of it myself.)
And that brings me to 50/50 Marketing...
This is where you invest 50 per cent of your marketing efforts on attracting new customers and 50 per cent doing things to create repeat and referral business from existing customers.
The big advantage of repeat and referral business from existing customers is that it is usually a lot easier and less expensive to do than trying to make a first time sale to a brand new customer.
Here is a simple marketing strategy you might like to try:
Stay in touch regularly with your existing customers in a way that adds value.
Here are three easy ways to do this...
1: Send a hand written card to 100 existing customers this month. You could say something like 'Hi Sue, just a quick note to say thanks for being a customer. I appreciate your business. Kind regards. John.'
If you send out 5 cards each work day you could easily get 100 cards mailed in a month. Suddenly you have 100 customers who remember your business in a positive way. (The key here is the hand written note which shows you've taken a bit of time and effort to touch base.)
2: Send a positive message to a number of your customers. This doesn't even need to be related to what you sell. It just needs to be something that could add value when people either read, listen or watch it.
A good example is a short message I came across a while ago by entrepreneur Derek Sivers. It was called 'No more yes. It's either HELL YEAH! or no.'
This message had an interesting viewpoint on making decisions about what you wanted to do. I shared it with a number of my clients and subscribers and many liked it. In other words I added value to them.
3: Send a small gift to 50 of your best customers.
This is one of my favourite strategies.
Just pick something that you think your customers might enjoy and send it out with a personal message.
This could be a double movie pass that goes out with a note like this...
'Hi John, we really appreciate you being a client. Here is a small gift to show our appreciation. It's a double movie pass valid for a year. There are some great movies coming up over the next few months so take the time to enjoy one of them on us. Kind regards. Your name.'
A gift like this might cost you around $30. However you now have 50 of your best customers who feel greatly valued and appreciated. And many of them are highly likely to mention your business to some of their friends and colleagues as well.
Around 20 years ago I had a car dealership send me a double movie pass after I bought a new car. (Along with a short note thanking me for my business.)
For the next few years I told hundreds of business owners in live seminars about this car dealer. I also ended up buying two more cars from the same car dealer as well.
My message this week is take some time to focus on adding value to your existing clients and customers. You'll be delighted at how profitable this can be when you do it consistently.
"Treat your customers like lifetime partners." - Michael Leboeuf
Action Exercise:
Make a list of 50 of your best customers or clients. How could you add value in some way to these customers over the next month?
Graham McGregor is a marketing consultant and the creator of the 396 page 'Unfair Business Advantage Report.' www.theunfairbusinessadvantage.com (This is free and has now been read by business owners from 27 countries.) You can email him at the link above.