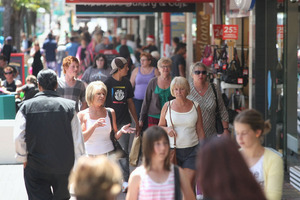 Despite serious challenges for small businesses in New Zealand, 84 per cent of New Zealand entrepreneurs would do it all over again, according to new research from Regus, the global serviced office provider.
More than 60 per cent of NZ respondents in the worldwide survey predicted growth in the small business sector in the next five years but found red tape to be the biggest deterrent to setting up a business today. Difficulties accessing credit, lack of government support and market domination by large corporations were also named as barriers.
More than a third of New Zealand entrepreneurs cited the state of the economy as a serious hindrance.
Rahul Suchdev, a director of Auckland IT recruitment company, SGS Consulting Ltd, said he wouldn't go back to working for someone else.
"I don't have to work or report to CFOs or CEOs who are interested in margins - at SGS we are truly focused on providing solutions to our clients."
"The biggest challenge," he said, "is at the end of every financial year repositioning yourself with the client as a value proposition as opposed to a cost centre."
SGS is a boutique consulting firm competing with large multinational brands who complement their delivery arm with a global marketing function, he said.
"We know we are good at doing the grunt work and getting things done at a tactical level. Where we need support as a growing business, is in marketing efforts, where we could improve for example our user interface and digital footprint," he said.
Suchdev would look at launching other businesses in the future.
Director of Regus Asia-Pacific John Henderson said: "It's important that Kiwi entrepreneurs have the right support they need in order to maximise their business."
"Although the challenges they face are not new issues, they clearly need to be addressed, especially with the large amount of growth in the small business sector which is only going to continue to rise. It's important they keep their business as nimble and flexible as possible."
Henderson added: "The lack of institutional support means that business owners will continue to increasingly favour flexible working. That way they can concentrate on expanding and growing the business and not have to worry about lengthy leases and operational cash flow."