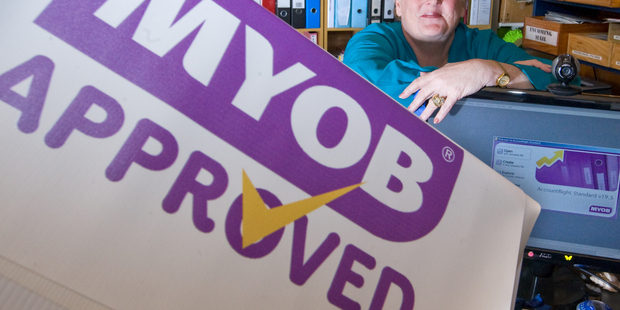 Australian accounting software market leader MYOB is paying $136 million to buy BankLink, a New Zealand accounting platform it has used for years to supply secure bank feeds of a higher quality than it claims competitor software platforms offer.
The move comes as the Australian accounting software market gears up for a tussle with American and British newcomers, posing competitive threats that will also have an impact on NZX-listed Xero, whose SME accounting platform is seeing strong uptake but is only around 2 per cent of Australian market share.
"Today's announcement is signifying that change in the industry," MYOB chief executive Tim Reed told BusinessDesk.
The high quality of BankLink's datafeeds compared to competitors, who Reed said had to "screen-scrape" rather than take a feed of cleansed bank data in order to run their accounting platforms, was "an absolute differentiator."
"We think there will be a merging of the provision of those services and with BankLink leading provision of bank transactions and us in provision of accounting software, there's a natural marriage for both businesses."
BankLink has provided bank feeds to MYOB for two decades and has relationships with more than 100 banks, credit unions, brokers and fund managers, which Reed said was a far larger network than any competitor.
MYOB claims Australian market share in the "mid-60s", with number two player Reckon "in the 30s", said Reed.
MYOB shareholder, US private equity firm Bain Capital, said the acquisition will be funded by A$75 million of senior bank debt and new equity from Bain. This would improve performance against banking covenants because of the equity component "and the contribution of the earnings of the BankLink business to MYOB's earnings."
The National Business Review reports that Reckon is on the verge of releasing a cloud-based accounting service, and two other international players will shortly enter the Australian market. These are US firm Intuit, previously a partner to Reckon, and a British provider, Sage.
Xero chief executive Rod Drury labelled the acquisition a "desperation move" by MYOB to bolster flagging revenue streams from BankLink ahead of a float. BankLink had been haemorrhaging New Zealand customers to Xero for some time.
New Zealand accountants' traditional "soft spot" for BankLink will evaporate once it was owned by MYOB, Drury said.
"This is very exciting for us," he told BusinessDesk. Dual-listed Xero's share price has risen a staggering 81 per cent this year, to value the company at $1.61 billion, despite not yet having made a profit, based on investor judgements about its strong customer growth and global potential.
Drury says Xero provides bank feeds, along with offering "accountant-side" software for free, whereas MYOB has always charged accountants for its software.
Drury did not reveal Xero's Australian market share, but said Xero was "where all the growth is happening". The company reported 219 per cent customer growth in Australia in the year to March 31, making it the largest contributor to a doubling of customer numbers to 157,000 globally, 6,000 of whom Xero says are accounting firms.
MYOB claims one million businesses use its software in Australasia, and that 40,000 accounting firms are on its books. BankLink's customer based comprises 5,000 accounting firms and 320,000 businesses, MYOB said in a statement today.
There would be significant overlap in the number of accounting firms using both MYOB and BankLink, but the additional BankLink businesses would be "additive", said Reed.