Cramped offices helped Aranz Geo staff develop into a highly creative and productive team, says boss.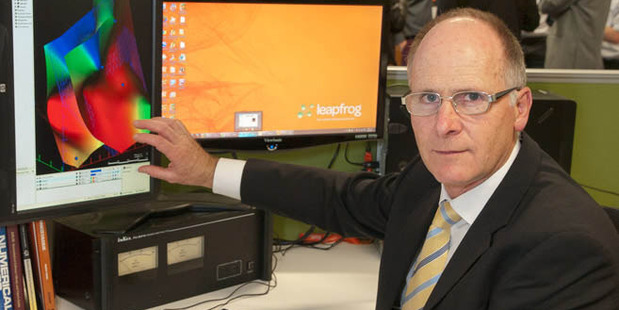 One of the finalists for the upcoming 2013 New Zealand Hi-Tech Awards, Aranz Geo, credits the Christchurch earthquakes with shaping the company culture and helping it achieve extraordinary growth over the past couple of years.
"These two years of events had a profound and positive effect on the company. Productivity increased, while the Kiwi 'can do' attitude and thinking outside the square kicked in," says CEO Shaun Maloney.
"Crammed into two or three offices, suitable for a third of the number, the staff didn't sweat the small stuff and developed into a highly creative and productive team responsive to customer needs. Our Leapfrog software's functionality, reputation and sales grew exponentially," he says.
Aranz Geo is a developer of 3D geological modelling solutions for the mining, hydrogeology and geothermal industries.
The Leapfrog suite of 3D modelling packages are decision-making tools used by the world's leading mining companies and investment houses. Just about all the company's sales are overseas.
The company's origins were in medical imaging, with Aranz Geo separated from parent Aranz in 2011. The original company continues its core business of medical scanning.
Co-founders Rick Fright and Bruce McCallum, both with University of Canterbury electrical engineering PhDs, are on the board of Aranz Geo.
Maloney has a minor shareholding but the company is owned by three founders and two other shareholders.
Since arriving three weeks before the September 2010 first earthquake, Maloney has more than doubled the company's Christchurch staff to 50. When he started, there were 19 technical people. He has brought in expertise in marketing and licensing.
A further 35 staff are in support offices near mining areas in Canada, the US, Peru, Chile, Britain, Denmark, Turkey, South Africa and Australia.
When Maloney, a sales and marketing expert, joined Aranz Geo, there were three distributors around the world and no marketing sales strategy.
He and the board put together an aggressive three-year growth plan that would see them "take ownership of the end-to-end experience of our software user, deepen our market penetration through forming corporate supply agreements targeting the 10 top global companies and broaden our software's capabilities, functionality within the wider mining lifecycle".
Two years in, the company is on target with 300 per cent growth in customers and sales, and it has global supply agreements with nine of the 10 top mining companies.
Turnover this year is expected to be $11.5 million, and the company is profitable, which not every fast-growing tech business can claim, adds Maloney.
He is excited about the potential for the geothermal software the company has developed with state-owned GNS Science.
"Japan wants to go from nuclear to geothermal by 2020. That's another opportunity for us."
Aranz Geo software has also been used for mapping the Christchurch fault system and liquefaction.
As it has grown, the business has drawn on advice from the well-established local tech community. "We talked to technical businesses such as Vista Entertainment and SLI about South America."
Being closely associated with the boom and bust mining industry can be a challenge.
"Bust time or market correction time has occurred recently in the iron ore markets and the focus goes on efficiency, effectiveness and reducing risk.
"As it happens, that's the value proposition for our Leapfrog software suite," says Maloney.
Top tip
Do your homework before leaving home to expand overseas. Find out about legal, tax and cultural issues as well as your opportunities.
Best business achievement
Forming supply contracts with the major mining and exploration companies.