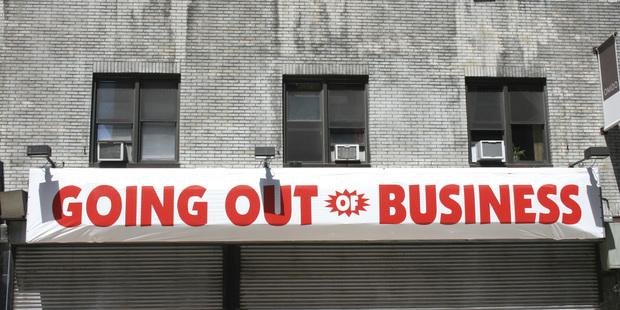 The number of New Zealand firms at risk of experiencing financial distress in the next 12 months has declined sharply on the back of improved economic sentiment, according to new research.
Credit reporting firm Dun & Bradstreet, which conducted the study, said the number of companies rated lower risk had grown steadily over the past three years, jumping from just 1.4 per cent of all businesses in the three months to February 2010 to 7 per cent during the same period of 2012/2013.
"This is in line with a steady recovery in economic sentiment as firms prepare to increase their activity and cut back their risk," Dun & Bradstreet said.
Lance Crooks, Dun & Bradstreet's New Zealand general manager, said many companies were improving their risk rating as the domestic economy recovered from the global financial crisis.
"The tens of thousands of New Zealand businesses that now present a lower risk of experiencing financial stress is a significant turnaround from the period between 2008 and 2011," Crooks said. "In particular, the data from 2008 and 2009 reflects volatile global financial conditions during that period, which had a flow-on effect on New Zealand companies in terms of risk ratings."
Stephen Koukoulas, the credit rating agency's economics adviser, said the outlook for the New Zealand economy was increasingly favourable.
"Firms are clearly cashed up and are awaiting the right opportunity to increase their activity," Koukoulas said. "With the [Reserve Bank] leaving interest rates at historically low levels and New Zealand's largest export market - Australia - in the early stages of a growth pick-up, New Zealand could be on the cusp of a sharp lift in activity."
The construction industry showed one of the biggest improvements, with 13 per cent of firms in the sector receiving an improved risk rating, up 6 per cent since 2009, according to the research.
The fishing and forestry sectors experienced the smallest improvement in risk ratings, up only 5 per cent and 8 per cent, respectively.