The impetus from being laid off kindled a tasty dream - to open a high-end chocolate shop.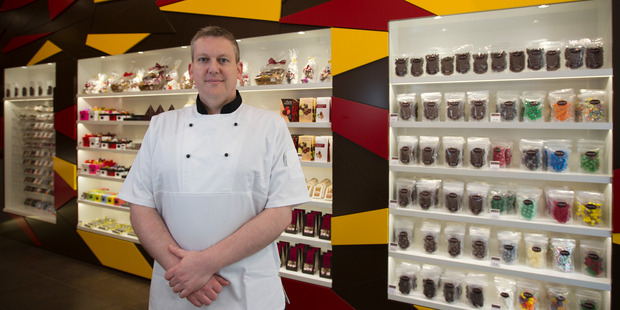 A significant life change such as redundancy can give you the impetus to finally set up the business of your dreams. Playing poker one evening with friends, Stu Jordan, who had been laid off from his job as national sales manager at a technology company, was talking about his idea for a high-end chocolate shop, showcasing the best New Zealand chocolates.
One of his cards friends liked the idea and offered to be Jordan's 50:50 business partner. The dream of The Sweetest Little Chocolate Shop became a reality, opening in June 2009.
Close to four years later, there are three outlets, in Queen St, Sylvia Park and Hamilton. The stores sell brands such as Schoc Chocolates, Colestown, Chocolate Brown, Bella Chocolate, House of Chocolate, Van Heiningen Chocolate, De Spa Chocolatier, and for the past nine months, Jordan's own brand, Kako Chocolate.
The Kako chocolates were chosen by the British ambassador as gifts when Prince William and Kate, Duchess of Cambridge, were visiting the region last year.
"Our Passionfruit Hearts got us in the royal door," says Jordan. Passionfruit Hearts were also a finalist at the New Zealand Food Awards last year.
The business has 17 employees, which gives the entrepreneur satisfaction. He doesn't play down the effect redundancy had on him. He became physically ill.
"To the people I had talked to, I did not have a value any more. That was the hardest thing. My identity was tied up in that role."
In hindsight, he is grateful and sees it as a second chance for himself in his early 30s.
"I was too comfortable - it gave me the push I needed."
The past few years have not been without their challenges. The stores are franchises, although Jordan thinks the 20 or so more outlets to come will be company-owned.
The franchise route was more costly and labour-intensive than he had thought. Jordan would like to see 23 stores in total in the next 15 years, each store costing $250,000.
Unafraid to part with pieces of the company, Jordan has sold a shareholding in his manufacturing division to a former pupil of his chocolate school, Michelle Brooks and her husband Graham.
The couple had their own bakery so Michelle has the experience to run the factory in Glen Innes, while Jordan works on product development.
"You are so alone when running a business by yourself - I needed someone to work with," Jordan says. It also raised the capital for the next step in the business, he says.
Jordan has global ambitions for the stores and the Kako brand, specifically in China within five years. His business partner is a New Zealand citizen with Chinese origins and contacts.
"The growth in chocolate consumption in China is 84 per cent year on year - the middle class there is absolutely booming," says Jordan. Japan is another ideal market.
The business is turning over less than $2 million and the chocolatier is projecting sales well over that figure in the next year.
Rather than trying to make slow months such as January busier, Jordan is focusing on making key events like Easter, Mother's Day and Valentine's Day even bigger.
Top Tips
If there's an area you don't know a lot about and you go for professional advice, be careful before you make a major decision. Look for a second opinion. Talk to other business owners who have faced the same decision.
Best business achievement
Being asked to supply Prince William and the Duchess of Cambridge with Kako Chocolates at their Solomon Islands resort.