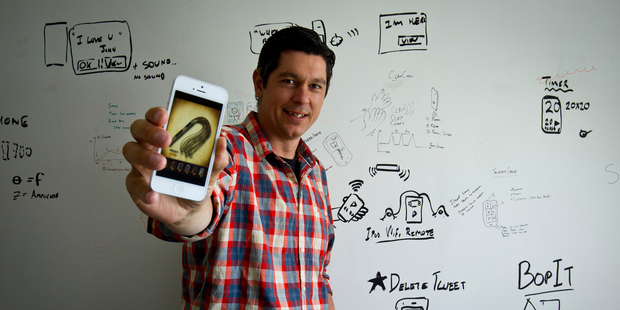 John Ballinger, a one-man-band who writes apps under the Bluespark name, is an iOS developer who has been at it longer than there has been a formal app market.
"I built an app or two even before you officially could and got them on to my iPhone, which I was pretty chuffed at," Ballinger says. "Then on the day the App Store was launched, along with the iPhone 3G, I released a mortgage calculator."
His simple program was one of only 500 or so to make their debut with the App Store. Today there are 700,000-plus apps.
Bluespark now has seven apps in the App Store, the best-selling of which is the $4.19 Heart Monitor, which uses a microphone to detect heartbeats.
Ballinger's biggest payday came in 2009, when he received a $40,000 cheque from Apple for a month's sales.
"I thought is this real - are they really going to pay me that?"
He has hit the jackpot - sort of - again in the past six months. With Christchurch-based collaborator Ellory Elkayem, he created Pocket Whip, which for a few days was the most-downloaded free app in the United States.
Pocket Whip's name is an accurate description of what it does: allows a user to make a sound like a whip crack, by flicking their iPhone.
Demonstrating once again that success in the App Store is down to clever - or lucky - marketing, Pocket Whip took off after featuring on an episode of sitcom The Big Bang Theory. And success breeds success: subsequently, Paramount Studios offered them the rights to use the Indiana Jones theme music and images in the app.
"I've taken the app over and launched a new version, which is still going well," Ballinger says.
The app itself is free, which raises the question of how he makes money from it. Like other free apps, "virtual goods" - in this case additional whips - can be bought from within the program. Making an in-app purchase also gets rid of the ads that come with the free version.
"Advertising accounts for a reasonable amount of my income from the app and selling virtual goods accounts for the rest."
Ballinger won't say how much Pocket Whip has earned him but says writing updates of the app keeps him fully employed.
Like MEA Mobile (see p16), he also writes apps for Android handsets. However he prefers iOS, finding it quicker to program for and as much as 50 times more lucrative.
Ballinger has twice taken himself off to the Apple's annual worldwide developer conference in San Francisco, at one of which Steve Jobs was present.
However his app development career had outlaw beginnings. In 2007, before Apple had officially begun selling iPhones in New Zealand, Ballinger was one of the first people in the country to hack - or "jailbreak" - one so it would work on the Vodafone network.
"Back in the day there was no other way to use an iPhone in New Zealand because they weren't sold or supported here. But in the long run jailbreaking was a problem because every time Apple upgraded the software, the phone stopped working."
He has no problem with Apple pocketing almost a third of the proceeds. "No one complains about the 30 per cent Apple takes. It also manages the whole device ecosystem, distribution and payments. I think you'd find that managing all that yourself could cost you up to 50 per cent of the sale price. A one-man-band can make an amazing app and make huge returns without venture capital or start-up money. I don't have to give up rights to the app. The only cost is Apple's 30 per cent take on all sales and US$99 a year to be a member of the developer programme."