In London, Pattrick Smellie meets a group of Kiwi businesswomen who reckon they're in the ideal place to take on the world.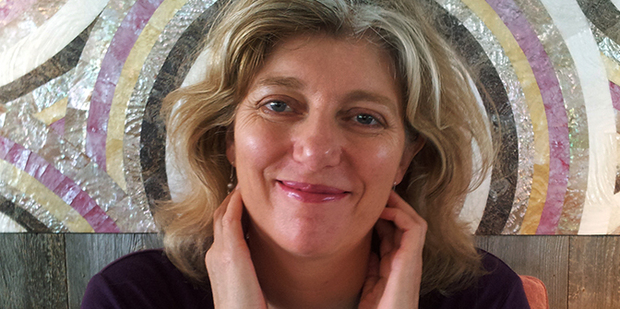 North Korea may not be the obvious place to start a feature on Kiwi businesswomen in Britain, but Auckland-born Joanna Alpe's amazing opportunity in London involves an idea first perfected by Communist mass theatre.
The 32-year-old design agency owner runs a start-up business called MakeLight, which riffs on those stadiums filled with Dear Leader's adoring acolytes holding aloft cardboard panels to create vast, patriotic images.
Fast-forward to London 2012, and Alpe's concept is to do the same thing, but with smartphones. She calls it "making people pixels". A stadium full of fans at, say, the O2 Arena in London, would download an app at a rock concert, configured to make each smartphone a single pixel. That would make one huge picture and one huge shared experience. As a brand-builder by trade, she can see how that could appeal.
What about the gaps between the phones? No trouble, says Alpe. The brain compensates for that.
O2, the British mobile network operator and smartphone vendor, loved the idea, and told MakeLight to pitch for a place at the super-funky Wayra incubator facility, just off Goodge St, central London, in one of those distressed industrial spaces creative types love.
"That was the game-changer," says Alpe of MakeLight's acceptance for a nine-month stint under Wayra's wing. "Before, it was just an idea."
And now here she is, ensconced in her open-plan cubicle with chief technology officer Nick Redwood, surrounded by other hand-picked entrepreneurs with bright ideas, and the incubator's eclectic furniture, table tennis tables and an old-style London telephone box.
In one sense, Wayra is just another incubator. They exist in every city that fancies itself as an innovation hub, and just as Wellington has Lightning Lab or Auckland The Icehouse, Wayra isn't so much a guarantee of success as a leg-up. But as the brainchild of the chief executive at the Spanish giant Telefonica, owner of O2, Wayra has outposts throughout South America and Europe.
It's an experiment not only in nurturing new ideas, but in helping a multi-national remember how to be nimble.
Wayra has a small equity stake in MakeLight, but "they're careful to ensure our autonomy so we can cut our own deals and not be held back," says Alpe. "It's not corporate rhetoric. It really is 'how does this work?"'
She'd have been just as happy if such opportunities had appeared in New Zealand. But she was already splitting her time between Britain and Auckland, doing design and brand work - from Westpac's display at the Mystery Creek Fieldays through to clients in London.
She is also one of a loose-knit mafia of New Zealand businesswomen - some recently arrived, others long-established - who have coalesced into a network that keeps alive their Kiwi-ness while successfully navigating business ventures, often in areas far from the traditional food and fibre exports that still make up most of New Zealand's trade with the former Mother Country.
One such Kiwi, self-described "serial entrepreneur" Melissa Clark-Reynolds of Wellington, found that moving to Britain meant doing the student flat thing all over again.
After two years researching ideas for a "weightless export", she settled on an online children's game with an environmental theme.
She moved in part because New Zealand's broadband speeds - particularly upload rather than download speeds - weren't up to the mark for a global online business.
She also applied and became the only Kiwi to be chosen for Springboard, a start-up programme at Cambridge University.
"The three of us pitched up, rented the most disgusting flat, worse than when I was at Massey [University in Palmerston North]. It had slugs, spiders and rats in the wall," she recalls, over drinks at Brumus, a smart hotel watering-hole in the Haymarket, opposite what is still London's ugliest building, the NZ High Commission.
"We pitched well, we already had some capital, and we could add value in the UK."
Britain also proved an easier sell than the United States, where she initially looked to launch.
A few months on, she rented out their Roseneath villa and moved to London with husband Mike Eastwood and 12-year-old daughter Grace.
They all bought bikes and began the rigmarole of trying to open a bank account in the arcane British banking system, something Clark-Reynolds says she has yet to crack. Today her MiniMonos game is in the first stages of monetisation. Gift cards are in store at supermarket giant Sainsbury's, and the adventurous monkeys are the fourth most popular online kids' game in Britain.
Clark-Reynolds is confident the site will have 1 million players within 12 months, and is already planning a launch in Brazil. The business model requires only 1 to 3 per cent of gamers to be making purchases to succeed commercially.
"It's happened because we are here," she says of the London move, although MiniMonos development will continue to be based in New Zealand "forever" as far as she is concerned.
"The advantage of Wellington, not necessarily New Zealand, is a pile of things," she says. "We had to live somewhere that has fibre, good public transport, and access to design and games graduates. It had to be Wellington."
Even the TV commercials now playing on British stations were made on Courtenay Place.
Yet Britain was the place for the breakthrough.
"We've got real pressure to go to Silicon Valley, like that's the only place to raise capital," says Clark-Reynolds.
"That's probably true if you're a white 20-year-old with a maths degree. But it's got to be personal."
She calls this the "not bad" factor. When Britons hear a Kiwi say something's "not bad", they know it's "pretty good". When Americans hear "not bad", they wonder "how bad?".
As we talk, it becomes clear Brumus is not just a hotel bar, but is this evening a meeting place for other Kiwi businesswomen who are making London work for them.
Among them is Emma Loisel, a long-time expatriate and venture capital investor whose geography degree at the University of Auckland morphed into a masters in criminology in Melbourne, followed by work as a corporate fraud investigator in London. That taught her about due diligence, what to look for in a business, and led her to practice management at KPMG in Britain, leading to some very high-quality mentors and what amounted to a "personal MBA" in business administration.
From there she formed a media agency start-up, now owned by Microsoft, which grew to £28 million revenue in three years. These days she has six active investments on the go, ranging from the Yoomi self-warming baby bottle through to a stake in supplying high-quality roasted coffee to London chains.
She now has a healthy distance on New Zealand, a country she describes as "a small place with a huge network".
An "old-fashioned capitalist who likes to see a business make money", Loisel says she is over the obsession with start-ups and looks for businesses that either have a track record or, if they're brand new, a credible revenue model.
"Everyone thinks early-stage and starting businesses is the holy grail," she says. "But from my point of view, there's a lot of money being thrown into start-ups. They'll say they're worth a million pounds, but when you say to them 'what's your revenue model?', they look ... like 'oh, you're so boring'.
"I've seen the same business idea three times in the last five years. None had a revenue model."
There's a warning in there too for New Zealand businesses that believe they're on to the next big thing. Within a mile of our lunch spot in Soho is "Silicon Roundabout", an area being developed as London's answer to "the Valley".
"Lots of New Zealand companies think they've found something new, and I will tell them there are three in Soho doing the same thing," says Loisel.
However she likes the fact that New Zealand companies tend to survive by living her basic philosophy of business: operating with limited resources, which forces them to innovate. "That's New Zealand summed up."
She has less time for expatriate New Zealanders considering investing in a new business. "I tell them 'go and find a 64-year-old [owner-operator] who wants out'."
Entrepreneurialism, she says, isn't about start-ups. "It's about growth." It's about taking an existing company with cashflow and profitability and restarting it.
"The question is, what can you develop on top of it and how do you internationalise it?"
Very often, she suggests, the best people to internationalise a successful domestic, New Zealand company will be those who are coming back from the outside world. "Use people who are international," she says. "The best people to get businesses out of New Zealand are people who have networks outside the country."
A few blocks away at Coutts private bank is Bronwen Horton, the founder of the New Zealand Business Women's Network.
Part social gathering, part corporate opportunity, part ethnic and gender enclave, the group has grown organically to sit alongside much older Kiwi institutions in Britain, such as the New Zealand Society and the Maori association, Ngati Ranana, with its history of more than 50 years.
"We're talking business, flicking to something personal, or about our families," says Horton.
"We're discussing every aspect of life in one meeting.
"We're not just sitting down and swapping business cards."
Network members - there are 750 on the database - were prime movers in mobilising fundraising efforts for Christchurch, Horton's home town.
They are also on hand as an honour guard for another great New Zealand contribution to London culture: The wine and food revolution that has transformed everything from the previously awful coffee to the legendarily bad food, which has now become hard to find.
The day we meet, Loisel is heading off to a function at Peter Gordon's new London restaurant, Kopapa.
On one hand, says Horton, New Zealand is a far easier place to do business than Britain. Most aspects of the bureaucracy are simpler and the competition is less intense.
But the trade-off is the size of the market. "You don't have the population or the mass market."
Perhaps the most successful in this group is Katherine Corich, who founded Sysdoc in New Zealand in 1986.
The privately held company's turnover is in the tens of millions of dollars and it has taken its unique blend of change and information management, training, process improvement and documentation to the world.
With offices in Britain, the US and Australia as well as New Zealand, the most exotic project location so far is almost certainly Kazakhstan.
"We still have a thriving New Zealand business," says Corich, but most of the time she is based in a converted mews near Paddington Station, which from the outside looks like somebody's home and on the inside is a hive of multilingual hipsters with laptops hard at work.
"It's because of that we've been able to globalise and bring business back to New Zealand," she says at a meeting over coffee, delayed only by the inevitable confusion occasionally created by her running diaries in both New Zealand and British time-zones.
"If you build successfully in your home territory, you should be brave enough if you're the founder to look at other options for expansion," she says.
That, in turn, means getting your New Zealand business to a state where others can manage it.
Now, each Sysdoc territory has its own chief executive.
She likes to hire New Zealanders internationally for their "can-do attitude", but notes the shortcomings of an education system that leaves most Kiwis unable to deal in any language other than English.
"I would love to see New Zealand really encourage language learning," she says, with Maori an obvious place to start.
"It's not until you speak another language that you get inside the head of another culture."
In part, English is why New Zealanders can succeed in Britain. They can exist in one language, and apart from Australia, there is no other country where residency is comparatively easy to obtain.
Corich is a fan of the way the New Zealand Business Women's Network has created a hub for Kiwi women in London, and stresses it's more about the business than about the women.
"Rather than a sisterhood, it's a group of astute Kiwi businesswomen who get how to globalise," she says.
"How to put yourself in a market with much higher levels of capital and much greater reach into global markets. You can feel the energy of being here."
Doing business in London: Insights from Kiwi women
* Britain is easier to break into than the US market. Why? Because Kiwis are a known quantity to British people. The US also has much stricter visa requirements, despite crackdowns that mean young professionals now face a much tougher time getting permission to live and work in Britain. •"You need to be seen as local," says Sysdoc's Katherine Corich. "Even though our roots are in New Zealand and we're proudly Kiwi, we also wanted to create a business that Britons would be proud of. The common theme of NZ companies that have been successful in Britain is that we've embraced the Bri-wi thing".
* "You don't have to move the company [from New Zealand], but you do have to move someone," says MiniMonos "alpha monkey" Melissa Clark-Reynolds.
* "London is the perfect place to pitch to European investors," says Clark-Reynolds. "We didn't go to Europe to pitch to anyone. It was all in the Square Mile that's the City of London".
* "Entrepreneurs trying to break in here should come up, do some reconnaissance, make connections, and do it well in advance" - Bronwen Horton, New Zealand Business Women's Network.
And on the realities of New Zealand:
* "There's an incredible richness in NZ that's not getting to the boardroom," says Corich of the quality of governance at home versus Britain. "We would get some incredible decision-making that would help us globally ..."
* Another London Kiwi businesswoman is blunter: "What New Zealand boards need is more r&d, by which I mean 'retirement and death"'. The old boys' network is holding us back, she reckons.
* "We are passionately New Zealanders and we champion that ... but I worked out early on that our market was global and here [London]" - Joanna Alpe, Makelight.
Pattrick Smellie travelled to Britain courtesy of the British High Commission in Wellington and Air New Zealand.