Gym and health centre offers extra services to attract busy clients.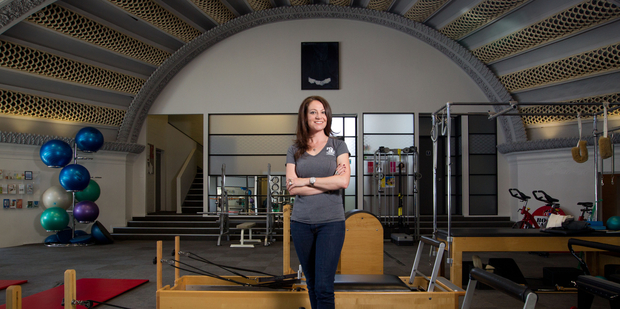 Burning away the extra kilos has built a strong business for Kirsty Wilkinson at a time when people are watching their money.
As the owner of re:ab on Selbourne, a boutique gym and integrated health centre in Grey Lynn, Wilkinson, 43, has seen membership double in the first six months of this year.
She says small classes and the health and well-being businesses associated with re:ab have resonated with people looking to keep fit and healthy.
Based in an old cinema, re:ab has some of the trappings of a traditional gym but also has a physiotherapist, dietitian, podiatrist, breathing specialist, hand rehabilitation specialist, massage therapist and beautician on tap.
These businesses operate independently but share the cost of overheads such as a receptionist and marketing.
The boutique nature of re:ab, with small class sizes for its Pilates, spin, circuit and boot-camp sessions, means clients get a one-on-one experience for a fraction of the cost of a personal trainer, says Wilkinson.
"We call ourselves the gym for people who hate gyms. And that's no disrespect to gyms."
After training as a lawyer and working as a graduate at Russell McVeagh, Wilkinson left law to spend 10 years working in the health sector, including a stint at Middlemore Hospital.
"I worked at the funders, the providers, an insurance company and a private hospital, so I had a really good, broad health background."
When her two children were born she stepped back from full-time work but kept her hand in consulting, helping people with business planning.
"Then when I got back on my feet I realised that really I wanted to do it myself. I'd given a lot of people advice on doing different things and I wanted to do it myself."
She bought a half share in the re:ab business, an established Pilates and physiotherapy business running out of 150sq m on Ponsonby Rd, before buying the other half a couple of years later.
The real change came in 2010, when a move to the current premises on Selbourne St saw her more than triple the size of the studio and step up the services.
"We needed to take a different approach to how we made the business work, and on top of that I'd always had a vision of an integrated health and well-being centre, a one-stop shop.
"People are time-poor. It's difficult enough to try and sort things out in relation to your health. You need to provide things easily in a format that they trust and in a way that is accessible."
In business terms, it hasn't been easy running an operation that is likely to be paid for out of its clients' discretionary spending.
"I know every dollar that goes out of my account," she says. "I am fixated on costs and I monitor everything, all the time.
"The other thing that I would say over the difficult times is that we have really listened to our clients." Wilkinson is often found sitting behind the re:ab reception desk, keeping an eye on classes and asking for feedback.
She knows that more than half her new clients hear about re:ab through word of mouth.
"What I know is we have to look after the people who are with us already as our most important form of marketing, because they are the people who are going out and telling other people to come."
Although she admits the re:ab model could be duplicated elsewhere, Wilkinson is coy about expansion plans, saying there is still room for growth at her Grey Lynn premises.
"I want to get things completely perfect and know exactly the right way of going about things before we expand it further. I think you've just got to be really sensible. It is a difficult environment but we are really, really pleased about how it's gone over a difficult time."
Wilkinson's interest in health extends beyond her business. Since 2009 she has been a board member of the Middlemore Foundation for Health Innovation, a charitable trust that raises funds for health services at Middlemore Hospital and the wider South Auckland community, and is on the board of the Mental Health Foundation.
"As well as raising money for a neonatal bed, we're also raising money to insulate homes in South Auckland to try and keep down the rates of respiratory illness."
Wilkinson says she believes strongly in giving back to the community. "I think it's really important in business to be thinking about what you can do to give back ... And also we all need to be mindful of what's going on with the rest of our community and how we can help."