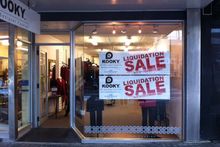 Well-run New Zealand businesses that survived the recession are starting to fall over as the economic lift they were hanging on for fails to eventuate.
Almost twice as many businesses went into liquidation last month compared to May the year before.
Auckland Chamber of Commerce chief executive Michael Barnett said there were signs of more trouble to come.
Liquidator Kieran Jones, of Waterstone, said retail in particular was seriously suffering.
He had worked on the liquidations of two fashion retailers this year and said both businesses had been well run.
During the recession, those that were poorly managed or under-capitalised were the first to fall over.
"But retail spending hasn't lifted and now good retailers that had been hanging on are starting to give up," Jones said.
He said fashion retailer Kooky, which went into liquidation this week, was exceptionally well run. But retail spending had not picked up.
Efforts were being made to sell the business as a going concern, but if that did not happen, the 13 stores around the country would close. Forty staff would be affected.
"During the downturn a lot of businesses took the chocolate biscuits off the table - they cut back on all the things they were spending too much on," Barnett said.
Those businesses that had been existing on the barest of bones were now struggling as the economy continued to stutter. "I think you'll see more that have held out but can't hold on any longer."
Paul Errington, who runs a home-handyman business, has no more fat to cut from his business. He had cut staff numbers by two and said there was nothing else that could be done.
"We did all right through the recession but at the moment we are feeling the pinch."
He said the business was turning over a third of what it had in 2009.
Ministry of Economic Development statistics showed the official assignee administered 361 liquidations in May this year, compared to 181 in May last year.
Jones and Barnett said things would not turn around for struggling businesses until consumer confidence returned.
Judging by the most recent BNZ consumer confidence survey, that could be a way off yet.
The survey found a big fall in the number of respondents who thought the economy would be better in a year.
In May, more than 43 per cent of people expected the economy to improve by the same time next year. In June, that number had fallen to 28.8 per cent.
Retailers' responses were particularly negative.
One respondent said: "We sell food and beverage upmarket items through a variety of retail outlets across the country. The majority of these outlets report May as the quietest month they can recall."
Statistics New Zealand figures showed that two years ago spending on clothing and footwear was already down 10 per cent on 2007.
A revised report this month on the March quarter said retail sales had fallen 1.4 per cent.
Massey University professor Claire Massey said people would look back in 20 years and see this time as a tipping point for New Zealand businesses.
She said small businesses that did not embrace technology would fail.
"Look at the book trade," Massey said. "Buying online has totally changed the way they do business."
By Susan Edmunds

Email

Susan