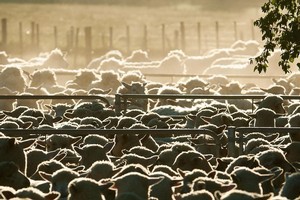 A shearer has been awarded $2250 for being punched in the face by his boss after swearing at his wife and being accused of skiving off work.
The Employment Relations Authority found that Peter Nelson had been constructively dismissed and awarded him compensation of $2250, plus the $70 authority filing fee.
According to the authority's decision released to the Herald yesterday, Mr Nelson was working on a shearing gang run by Dion Morrell Shearing when the incident took place near Alexandra.
On October 7, Mr Morrell's wife, Gabriela, was with a friend and their children visiting the Alexandra clock when they saw the work van at 4.20pm in town.
She later got a text message from Mr Nelson's partner to say the gang had finished up at 5pm.
Mrs Morrell sent a text back questioning the time and was phoned by Mr Nelson's partner, who said the wool presses had finished at 5pm. In the background she said she heard Mr Nelson say: "Tell the the f***ing bitch to get the f***ing story right."
Mr Nelson later told the authority that it was another employee who had sworn at Mrs Morrell. The authority did not agree.
When Mr Morrell found out what had been said to his wife, he headed to the shearers' quarters to confront Mr Nelson. He met Mr Nelson's car on the road and flagged him down.
Mr Morrell swore at Mr Nelson, told him not to swear at his wife and said: "Remember who signs the cheques."
Mr Morrell went back to his car.
Mr Nelson told the authority that he asked Mr Morrell to come back over to his car so he could explain that it was another shearer who had sworn at Mrs Morrell.
Mr Morrell said that was not the case. "Peter got out of his car and called back saying 'come here', pointing to the ground as if calling a dog," Mr Morrell said.
But both men agreed that Mr Morrell crossed the road and punched Mr Nelson in the left eye.
Authority member Phillip Cheyne found that Mr Nelson had aggravated the situation but that Mr Morrell had no right to punch him.