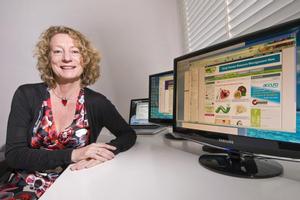 Website project manager Susie Hill spends a lot of time attending seminars to keep up to date with technology. Photo / Ted Baghurst
Name: Susie Hill.
Role: Consultant/director of The Website Company: thewebsitecompany.co.nz.
Hours: approx 40-50 hours per week.
Qualifications: Bachelor of Science, Certificate in Journalism.
Salary: Depends on effort put into the business.
What do you do?
I write and maintain website content and project manage website builds or redevelopments for medium to large organisations.
Usually I am called in when a communication team realises their website needs to be revamped or rebuilt and they don't have the capacity or skills to do it in-house. A lot of the job involves liaising between the organisation and developer.
Your background?
My entire career has been a process of stepping stones. I always have plans, but things sometimes fall by the way because I find something more interesting to pursue.
I began working as a medical laboratory technologist, then gained a human physiology degree before training to be a journalist. I spent 14 years reporting on health matters, working in community papers, as Auckland University Medical School communications officer and deputy editor for the New Zealand Doctor newspaper. I also worked on Taste and was a health columnist for Metro.
After years of journalism I was getting stale, so I started looking for new challenges. I have always loved the web. I started writing web content for people and through that got involved in content management systems and really liked that. I met inspiring key people in web roles and when I saw an advertisement for a web editor job they encouraged me to apply.
So, four years ago I became web editor for mental health organisation Te Pou, managing the build of its new website. It was very exciting having to make such an enormous health website in six weeks. It was also a steep learning curve.
After 18 months, I realised I'd found my niche and set up my own web project management business. That was just over two years ago. I initially intended to concentrate on health-focused websites, but through word of mouth I've found myself working on many sites, including a logistics company, technology park and retirement village company.
Best parts of the job?
Producing a key part of an organisation's communications and marketing weaponry is immensely satisfying. I also love the constant challenges, especially the changing technology.
Negatives?
It can be high-pressured and stressful. The ebb and flow of work can cause anxiety. I do a lot of jumping from job to job. In one day I may be dealing with four different clients over four different things. But that is a positive too because it keeps things interesting. Working on the business in terms of accounting and promotions can be a headache, especially at the beginning.
What skills are important?
You need a real passion for the web and great project management, people and marketing skills. You must be a details person. While it is good to have a helicopter view when planning, you also need to be able to nail the detail.
Excellent time management is an imperative and you have to be prepared to work at night and on weekends and be on call to troubleshoot.
And technical knowledge?
You need to understand the jargon of developers and designers and "translate" that into lay terms for clients. You also need a strong understanding of how the public uses websites so that you can build websites that market the products or services in a user-friendly way. You have to keep up with the latest search engine optimisation and online marketing techniques.
I also maintain websites, so I need to understand the peculiarities of different CMS (content-management systems). Currently I'm working on three different systems for different clients.
Because things keep changing, it is essential to keep up to date by reading, networking and attending conferences and seminars. For example, social networking tools, such as Twitter and Facebook, are huge now but were only just appearing when I started in this field.
What is the future of the web?
That question is asked at every web-based conference I attend and even international experts fumble for an answer. One of my roles is to help clients decide what to use now and help them predict what they will need in the near future - but it can only ever be the near future.
The only certainty is that it will be the public who will decide. Look at Second Life; it was going to be the next big thing but it hasn't really taken off in the mainstream - it was not one of the chosen. Facebook, Skype, Twitter are all big now, but what is next? I personally fear the next big step forward will be user pays. We all love Google Analytics but for how long will that remain free?
Your most successful project to date?
Being a key part of the communications team that merged seven out-of-date Mental Health Foundation websites into three state-of-the-art, highly-praised and professional sites that continue to flourish.
Future plans?
I toss up between wanting to keep doing what I'm doing in a manageable way or building the business to a point where I employ others. A partnership would be good.