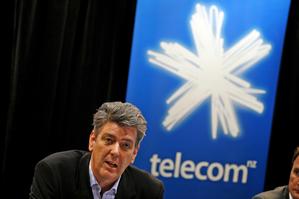 Chief executives of the country's three largest telecommunications businesses have vented their frustrations and concerns about the Government's ultra-fast broadband project which they say is stifling their own investment plans.
The Telecommunications and ICT Summit, held in Auckland this week, is one of the industry's major annual talk-fests.
The bosses of Telecom, Vodafone and TelstraClear used their speaking slots at the event to critique progress on the Government's plans to spend $1.5 billion on building an improved broadband network covering much of the country.
They also painted a grim picture of the broader industry, saying competition was increasing, overall revenue was flat or falling, and customer demands and expectations were increasing.
While its critics want industry giant Telecom shut out of the lucrative bid to build the network, the company's chief executive, Paul Reynolds, said that would be "bonkers" because it would force the Government to spending money to lay fibre-optic infrastructure where it was already in place.
TelstraClear's chief executive, Allan Freeth, also questioned the logic behind the Government's plans while Vodafone chief executive Russell Stanners said the network was so significant it was worth spending $5 billion of public money on.
Here are the telco leaders' views in more detail.
PAUL REYNOLDS, TELECOM
As Telecom emerges from the public relations nightmare that followed the botched launched of its new XT mobile network, Reynolds told the Telecommunications and ICT Summit audience the fiasco had also provided some positive spin-offs for the company.
He said the technical issues that plagued the network at launch were now behind it, and an independent report had reiterated it was built on sound technology.
Telecom was now "back in the market" actively selling XT - most notably through a television commercial fronted by Reynolds himself - and customers "in their hundreds of thousands" were continuing to sign up to use the network.
"Another positive on it, I hope, is that New Zealand saw a different Telecom with XT than it might have expected in the past," Reynolds said.
"We have tried extremely hard to be absolutely upfront, open, honest and transparent about the issues and deal with them in a way I hope Kiwis respected, even if the outages were deeply frustrating for some customers."
Having to deal with the experience had "in a funny sort of way" provided Telecom with an opportunity to improve its public image, he said, because corporate reputations were built during difficult times "not just when things are going swimmingly".
Reynolds said the company was working hard to align its own plans to expand its own nationwide fibre-optic broadband network with the Government's plan to spend $1.5 billion of taxpayer money on a fibre network reaching 75 per cent of homes and businesses. Telecom had spent $2.5 billion over the last two years on its network, he said.
"The economics [behind a national broadband network] are incredibly challenging. Everybody knows that, hence the need for the investment of public funds. But I think it's a conundrum which can be solved if we're open to new ways of doing things without wasting what's already been build," Reynolds said.
"Replicating the 25,000km of fibre Telecom already has in the ground makes no sense what so ever. And that's not just Telecom self interest, it would be bonkers."
He said analysts had estimated that between a quarter and a third of the listed company's value had been lost as a result of the uncertainty over whether it would have a role in the UFB project.
"The last thing New Zealand Inc. needs is for our largest private sector investor to be forced into competition with state-owned infrastructure. That's just going to end up with mutually assured destruction. It would quite simply be crazy."
RUSSELL STANNERS, VODAFONE
Reynolds' argument that his company should be included in the Government's plans to build a national fibre broadband network has the support of one of the company's major competitors, Vodafone.
"I cannot see a solution going forward for ultra-fast broadband that does not include Telecom as a key investor, a key stakeholder, in that future," Vodafone chief executive Russell Stanners told the summit.
"Why? Because a vast amount of the core of New Zealand, both in terms of infrastructure, fibre, and indeed the way the industry runs, is part of what Telecom is today. So I encourage the Government to think long and hard if they think there's a future that doesn't include them [Telecom]."
He said whilst Vodafone was, and would continue to be, a fierce competitor against Telecom, "the reality is that if we were to try to do a fibre network that excluded Telecom then my money would be that that would not be successful in the long term".
Stanners said given the Government contributed $3 billion a year to building and maintaining the roading network, "maybe we're being a little bit short-changed" with a $1.5 billion taxpayer spend on broadband infrastructure over 10 years.
He said $5 billion would be a more realistic figure for the Government to spend. "If it's in the good of all of us, why not make the investment?"
Stanners also echoed Reynolds concerns that the telco industry was delaying capital investment as it waited for the Government's plans to be finalised.
"We're all just stopped, sitting in the water, wondering what the new blueprint will be because investment, before you understand the blueprint of the future, is foolish to say the least."
ALLAN FREETH, TELSTRACLEAR
The Government's broadband investment plans also came in for a tongue-lashing from TelstraClear chief executive Allan Freeth, who likened them to a home renovator risking the destruction of their house by removing load-bearing walls during their attempts to improve their surroundings.
"As the renovation of the communications industry of our nation continues or evolves, I'm not wholly convinced that there is a plan that has considered all the effects of the renovation and its long-term consequences," Freeth said.
"Fragmentation of the industry and the consequential [reduction] of profit pools means telcos and related businesses do not generate enough value to be self-sustaining. In that situation telcos do not have enough strength to be the load-bearing wall of the house. That role, as a consequence, must fall to Government," he said.
"We're renovating an architecture with not enough thought to the consequences, intended or unintended."
He said the sector already faced the problem of internet businesses such as Trade Me and Google making profit while telcos struggled to make money from delivering the network services they relied on.
"Telcos' core business is going backwards in double figures. There are a number in the industry who contend that it won't be very long before the core business of telecommunications [the provision of voice calling services] is free," he said.
"In fact a recent study showed the decline could be faster than the core business of the postal industry. You know you have problems when you're going backwards faster than New Zealand Post. And I'm not sure how [NZ Post chairman] Jim Bolger would react if we told him in a few short years he'd have to produce a zero-cent stamp for postage, but that's what's happening [to telcos]. This is a social and business transformation of an unprecedented kind."