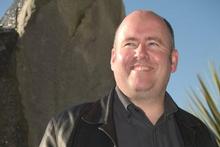 As a United States-based marketing vice-president for computer giant Dell, responsible for the company's multi-billion-dollar online sales operation, New Zealander Andy Lark has a rare insight into how technology is changing commerce.
As a seasoned entrepreneur, a director of Wellington venture capital firm No 8 Ventures, and an adviser to local online accounting firm Xero, the jet-setting Lark has also seen how start-up businesses are dealing with those changes.
Speaking to a group of company managers and investors at business development conference Accelerate 2010 in Havelock North last week, he said a raft of IT changes were beginning to hit businesses, no matter what they were selling.
Email was beginning to lose its dominance as video becomes a more powerful form of communication, he said.
Eighty per cent of mobile phone users would use the devices to connect online by next year, meaning businesses needed to work out how to communicate effectively with customers through the increasingly important mobile channel.
At the same time consumers' attention spans were shortening.
Lark suggested a number of ways New Zealand businesses could continue to grow and take advantage of the frenetic pace of technological change.
DO ONLY ONE THING
Businesses that can't simply articulate the "one thing" they did were in trouble, Lark says.
"Not because others won't understand you but because you won't have a centre of the business to stick with over time and use as the nucleus to power growth."
EMBRACE CLOUD COMPUTING
Businesses need to figure out how they were going to harness cloud services - those delivered over the internet - to improve operational efficiency and provide a new way of doing business, Lark says.
"Xero is a great example of this. From your accounting platform to storage to the way you collaborate - it's all available via the cloud. If you haven't figured out how to migrate as much of your business as possible into the cloud, you're missing the beat."
STANDARDISE PRICING
The web makes it more important for companies to base their business model around one standard, global price for products and services.
"Pricing is one of the most important things you're going to do. You can't [effectively scale-up your business] if you have a hundred offers, a hundred prices and all kinds of inherent complexities."
LISTEN TO CUSTOMERS
All businesses need web-based "feedback loops" to ensure they receive customer feedback. "Institutionalising listening using social media should be a core part of your strategy."
RETHINK WEBSITE CONTENT
Potential customers are not interested in reading material on company websites that is obviously written by marketing staff, Lark says.
"You need to find a way of crafting highly authentic content on your site - stuff I want to read and understand. You have to find a way of taking your best engineer, your best services support person and saying: blog about it, write about it, communicate about it because you speak in a real voice."
THERE IS NO ESCAPING THE WEB
"It's not a marketing tool, the web is your business, whether you like it or not," Lark says. "You have to figure out how to do it, and do it really well."
USE SOCIAL MEDIA AND ONLINE VIDEO
Smart businesses are using micro-blogging site Twitter to put out timely promotions for products and services.
Air New Zealand is an example of a company cleverly using online video as a marketing tool. Its clip of staff wearing nothing but body-paint has been viewed online millions of times.
"Who would have thought that taking your clothes off and getting some body-paint on you could reach the equivalent of the entire population of New Zealand via YouTube - it's a phenomenal example of using stunts and smarts to drive eyeballs."
CHANGE MANAGEMENT STRUCTURES
"Everything we know about managing a business was invented between about 1910 and 1920," Lark says.
"Everything else has changed except for the way we manage people. If you look at the leading businesses out there today they have completely challenged hierarchical norms and the norms of management inside their businesses.
"As start-ups you have the opportunity to do that. You should be bold and aggressive and turn everything on its head.
"It's funny that an MBA course has marketing in it but it doesn't have sales. The first thing you have to do is sell something."
DON'T TRY TO BE THE NEXT GOOGLE
Far too many start-ups say: "Google does this, so we're going to do that.".
"It's very unlikely that that is going to make you successful. These guys [Google] are abnormalities on the face of the earth in terms of success stories. They are one-in-a-million wonders. It's great you aspire to be like them [but] there will probably never be another business like it in our lifetime. If there is, I hope I get in and invest early."
TARGET 'NET PROMOTERS'
Businesses need an online platform that enables "net promoters" - their online supporters - to talk about them, Lark says.
"Your customers want a vehicle to celebrate how bright they were in making the decision to use you. If you haven't figured out how to build recommenders into your buying and selling process you are missing the most important thing about marketing. Figuring out who your net promoters are going to be is integral to understanding your value as a company. Increasingly when we look at company valuations we look at the number of net promoters they have."
GO OFFLINE
Lark says one key to success for many start-ups will be for the founders to find a way to take time out from the online world to "completely disconnect and clear your head and focus".
"We're all caught up in this endless race to the next thing. We're working long hours, playing hard, with your BlackBerry rumbling all day long. You need the ability to turn the stream off and figure out how to run your day effectively. Unless you figure that out, your chances of failure are going to be pretty high. I see too many people in start-ups just burn out with the finish line not too far away."
By Simon Hendery

Email

Simon