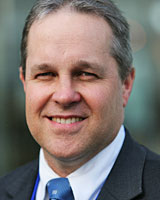 Technology problems are a notoriously common side-effect of business mergers. Andrew Crabb, chief information officer at TelstraClear, talks to Simon Hendery about how the company has dealt with the issue.
After TelstraClear was formed in 2001 (through the merger of TestraSaturn and Clear Communications) what was the new company's approach to amalgamating its technology infrastructure?
We looked at the various data centres and capabilities they had spread across the country. The initial focus was consolidating the footprint of the data centres - we consolidated five down to two core internal data centres. That was done in 2005 and 2006. We spent about $4.5 million on the initial installation of our storage area network.
That led to TelstraClear winning Best Virtualisation Strategy at last year's Hitachi Data Systems Asia Pacific IT Inspiration Awards. But what has the technology upgrade meant for the business?
The new generation of infrastructure is a lot less hungry on power and cooling, and takes up less space in the data centres. It also enables us to build new products and services that we can take to market. Server and storage consolidation means we can offer solutions to the small and medium business market.
[Business customers] don't have to have their own IT department because we can deliver services a lot more effectively and efficiently.
Hosted data storage and back-up is increasingly popular with consumers as well as businesses. Will TelstraClear expand this type of service to home users?
There are a number of options we're looking at in terms of how we can support the consumer market.
Internally, what is an example of how TelstraClear is making use of a more integrated network?
In the printer area we've had a major overhaul. We've replaced more than 40 multi-function devices. That reduces our cost per page printed and the software we've loaded on top of it is also about more efficient use of paper.
Historically within organisations 20 to 30 per cent of paper is never actually collected off a printer. [Now pages aren't printed until staff members] go to the printer. This means we've removed all of that wastage.
Businesses' data storage requirements tend to grow exponentially. Has that been your experience?
Back in 2001 when we kicked off this project we were expecting to reach about 90 terabytes in 2011 or 2012. We're already well beyond that - over 120 terabytes. We've seen the growth in storage progress at a faster rate as more business is done electronically and there are more requirements around data retention.
By Simon Hendery

Email

Simon