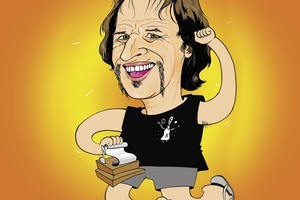 The APRA Silver Scrolls have been rewarding songwriting excellence since 1965. Here is the full list of winners, in all awards.
Silver Scroll Award
1965 Wayne Kent-Healey Teardrops
1966 Ray Columbus I Need You
1967 Roger Skinner Let's Think of Something
1968 David Jordan I Shall Take My Leave
1969 David Jordan Out of Sight, Out of Mind
1970 Wayne Mason Nature
1971 Corben Simpson Have You Heard a Man Cry?
1972 Stephen Robinson Lady Wakes Up
1973 Ray Columbus & Mike Harvey Jangles, Spangles & Banners
1974 John Hanlon Lovely Lady
1975 John Hanlon Windsongs
1976 Mike Harvey All Gone Away
1977 Lea Maalfrid Lavendar Mountain
1978 Steve Allen Why Do They?
1979 Sharon O'Neill Face in a Rainbow
1980 Paul Schreuder You've Got Me Loving You
1981 - no event -
1982 Stephen Young I Can't Sing Very Well
1983 Stephen Bell-Booth All I Want is You
1984 Hammond Gamble Look What Midnight's Done To Me
1985 Malcolm Black & Nick Sampson For Today
1986 Tony Waine Abandoned By Love
1987 Dave Dobbyn You Oughta Be In Love
1988 Shona Laing Soviet Snow
1989 Stephen Bell-Booth Hand It Over
1990 Guy Wishart Don't Take me for Granted
1991 Rikki Morris Heartbroke
1992 Shona Laing Mercy of Love
1993 Dave Dobbyn Belle of the Ball
1994 Don McGlashan Anchor Me
1995 Mark Tierney, Paul Casserly & Anthony Ioasa Sweet Disorder
1996 Bic Runga Drive
1997 Greg Johnson Liberty
1998 Dave Dobbyn Beside You
1999 Bill Urale Reverse Resistance
2000 Chris Knox My Only Friend
2001 Neil Finn Turn and Run
2002 Che Ness & Godfrey de Grut Misty Frequencies
2003 Donald McNulty, Te Awanui Reeder, David Atai, Junior Rikiau & Feleti Strickson-Pua For The People
2004 Malo Luafutu & Peter Wadams Not Many
2005 Dann, Jon & Peter Hume It's Too Late
2006 Don McGlashan Bathe In The River
2007 Brooke Fraser Albertine
2008 Jason Kerrison, Bobby Kennedy, Matt Treacy & Clinton Harris One Day
2009 James Milne & Luke Buda Apple Pie Bed

Sounz Contemporary Award

1998 Eve de Castro-Robinson Chaos of Delight
1999 Gillian Whitehead Outrageous Fortune
2000 Ross Harris To the Memory of I. S. Totzka
2001 Gillian Whitehead The Improbable Ordered Dance for Orchestra
2002 John Psathas View From Olympus
2003 Gillian Whitehead Alice
2004 John Psathas Piano Concerto
2005 Ross Harris Labyrinth for Tuba and Orchestra
2006 Ross Harris Symphony No. 2
2007 Eve de Castro-Robinson These Arms to Hold You
2008 Chris Gendall Wax Lyrical
2009 Ross Harris Symphony III

APRA Maioha Award


2003 Ngaiwi Apanui Wharikihia
2004 Ruia Aperahama E Tae
2005 Anituatua Black & Whirimako Black Tini Whetu
2006 Richard Bennett E Hine
2007 Andrea Tunks & Pierre Tohe Aio
2008 Ruia Aperahama Rere Reta Rere Reta
2009 Rewi Spraggon & Riki Bennett Tapapakanga

Most Performed Work in New Zealand

1994 Neil Finn & Tim Finn Weather With You
1995 Dave Dobbyn Language
1996 Paul Fuemana & Alan Jansson How Bizarre
1997 Bic Runga Sway
1998 James Reid Supersystem
1999 James Reid Venus
2000 Boh Runga Violent
2001 Julia Deans Lydia
2002 Anika Moa Youthful
2003 Geoffrey Maddock, Kirsten Morrelle, Joel Wilton, Ben King
Andrew Clark Maybe Tomorrow

2004 Brooke Fraser Better
2005 Neil Finn & Tim Finn Won't Give In
2006 James Reid Stand Up
2007 Brooke Fraser Deciphering Me
2008 Jason Kerrison, Bobby Kennedy, Matt Treacy & Clinton
Harris (Opshop) One Day
2009 Jeremy Redmore, Simon Oscroft, Matthew Warman, Aidan
Bartlett Nick Campbell (Midnight Youth) The Letter

Most Performed Work Overseas

1994 Neil Finn & Tim Finn Weather With You
1995 Neil Finn Don't Dream It's Over
1996 Paul Fuemana & Alan Jansson How Bizarre
1997 Paul Fuemana & Alan Jansson How Bizarre
1998 Paul Fuemana & Alan Jansson How Bizarre
1999 Paul Fuemana & Alan Jansson How Bizarre
2000 Neil Finn Don't Dream It's Over
2001 Neil Finn Don't Dream It's Over
2002 Not presented
2003 Neil Finn Don't Dream It's Over

2004 Neil Finn Don't Dream It's Over
2005 Neil Finn Don't Dream It's Over
2006 Neil Finn Don't Dream It's Over
2007 Neil Finn Don't Dream It's Over
2008 Neil Finn Don't Dream It's Over
2009 Neil Finn Don't Dream It's Over
-Herald Online