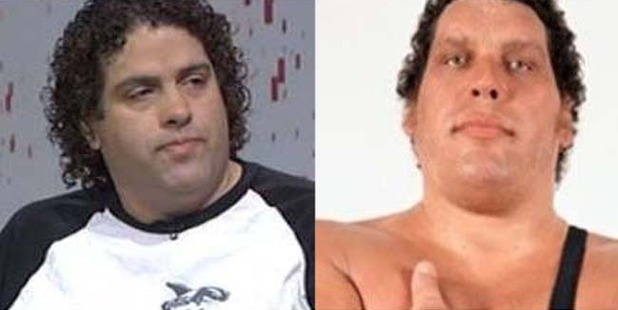 Separated at birth: Whale Oil and Andre the Giant.
Westie cries foul over inorganic rubbish collections
A Westie writes: "Can anybody tell me why East, South and North suburbs of Auckland get free, unlimited (size) inorganic collection while those of us residing in West Auckland have such strict criteria to adhere to when using the inorganic collection services? In the West, not only do I have to 'pre-book', but I have to 'pre-pay'. I can only put 1 x 1sq m out for disposal. We visited friends in Manurewa on Sunday and can see from the ever-growing piles of inorganic rubbish that there is clearly a collection happening there soon. Aren't we all part of the Super City? If so, why is Waitakere treated so differently?"
Site has tough job dispelling urban legends
Snopes.com is the first place to go to find out if that unbelievable thing you saw online is true or not. And, as a consequence, they get plenty of fascinating queries, like these:
1. "My younger sis heard that in order for a cologne/perfume/fragrance to be compatible to one's body chemistry, spray a sample and then lick it.
If the taste stings the tongue, it is not suitable. Please advise before I test the handful of colognes I've been using!"
2. "They say that if a person has a pet cat and dies, if the person's body is not found fairly soon after death, the cat, having not been fed, will eat the dead person's face off - JUST the face! Is this true? My cat often looks me in the face. I used to think he was just being friendly. Now I know he's just sizing me up, like a chef at a butcher shop, waiting for 'the big day'."
3. "I've heard that it is impossible to take a light bulb out of your mouth once one puts it in, without either breaking the bulb or dislocating the jaw. Do you know if this is true? My husband is really curious."
Reports of death certainly exaggerated
A groom-to-be in the US faked his own death to get out of his wedding, which is almost as impressive as the soft-drink vendor in Hubei Province who took it one step further. First, he faked his own death. Then he got his friends to parade his sheet-covered "corpse" around town, claiming that urban management workers had beaten him to death and demanding tens of thousands of yuan in compensation. But during the rally, the "lifeless" man jumped up and grabbed a drink of water after he couldn't bear the heat any more. (Via: China Daily)


Why is Salman Rushdie following me?
Political humour (international): Your cat needs this Dictator Cat Scratch Tree...
Political humour (unintentional): ACT hasn't learnt anything from David Seymour's clunky introduction video sticking with the same amateurish (read cheap) execution and production values for its party political broadcast. To set the scene this from The Sane Companion writes: "In a Dali-esque landscape, Jamie Whyte and his wife Zainab stroll and muse. Giraffes graze in the background. A red trumpet nestles into the nearby hillock..."
Politics humour (intentional): First two of a series of quick fire interviews for the Prime Minister of New Zealand, the Right Honourable John Key... (made by a couple of leftie thespians and likely communists, Michael Hurst and Ian Hughes)

Got a Sideswipe? Send your pictures, links and anecdotes to Ana at ana.samways@nzherald.co.nz