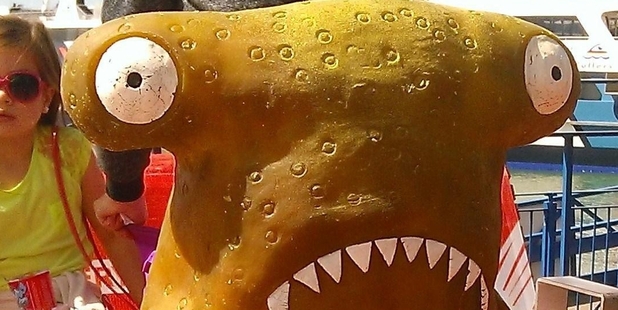 "Who are the losers who keep swiping and vandalising my art installations?" asks artist Julia Fong. "One of them, Hammerhead (pictured), was last seen secured to a Quay St bollard. Be a good citizen of your community and dob in your neighbour/mate."
Hitting the wrong note
A professional pianist in Spain is facing a 7-year jail sentence for playing her instrument eight hours a day, five days a week, according to her former neighbour in Puigcerda, Girona. Medical reports state the complainant suffered hearing damage, panic attacks and problems during her pregnancy as a result of the "environmental auditory stress". (Source: the Guardian).
True life zombie tale
A woman was visiting a family tomb in a Sao Paulo, Brazil, cemetery when she heard moaning coming from beneath the soil. Suddenly, a man's arm's burst from the soil, swinging wildly, trying to escape the grave. The woman ran away to call the police (they didn't believe her and told her to stop wasting their time) just like in every horror movie ever made.
So she rushed to the cemetery office, which helped her confirm her report. When emergency workers finally turned up the buried man was still alive. He was apparently a former city hall worker, who was attacked in a different part of the city, thrown into an empty grave and covered with earth. (Source: Death and Taxes).
Chairs to ACC for the detail
This week a reader shared that when on hold with ACC you don't get the usual elevator music, you get stats about accidents. "They supply statistics and advice like ... 'chairs are for sitting on, not for standing on, use a stepladder'. Then, a bit later on, '5000 people a year are injured from falling off ladders' ... hmmm. I wonder how many are injured falling off chairs?" Suzanne from ACC responds: "I can't narrow it down that far, but I can tell you that in 2012 there were 1247 accepted ACC claims for chair-related injuries. This includes people losing their balance sitting or standing on chairs, people getting up or off a chair, and people playing on and around chairs." So there.
Coeliac disease is not an allergy
If coeliac disease was like an extreme allergy where minute quantities of the allergen can cause anaphylactic shock and death, the gluten-free labels would certainly be warranted, says this reader. "But coeliac disease is not an allergy and minute quantities of gluten are unlikely to cause problems, even for sufferers. So labelling carrots 'gluten free' is either well-intentioned but pointless or a cynical attempt to cash in on the recent trend for gluten avoidance even among those that don't have coeliac disease. I suspect the latter."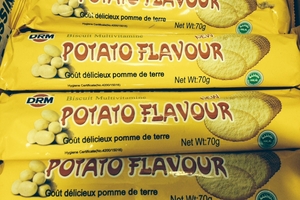 Anna Gavin of Waimauku writes: "I'm as much of a fan of biscuits as anyone but I wasn't too surprised to see these 'potato flavour' biscuits in the clearance section of the supermarket."
Local: Some compromise on berm mowing ...
Video: Sugar doesn't make kids hyper...
Picture this #1: Re-creating photos from childhood as adults has been a internet meme, but none have been as good as this...
Picture this #2: Magnificent pictures from Russian dating sites...
Video: Security passwords...
Got a Sideswipe? Send your pictures, links and anecdotes to Ana at ana.samways@nzherald. co.nz