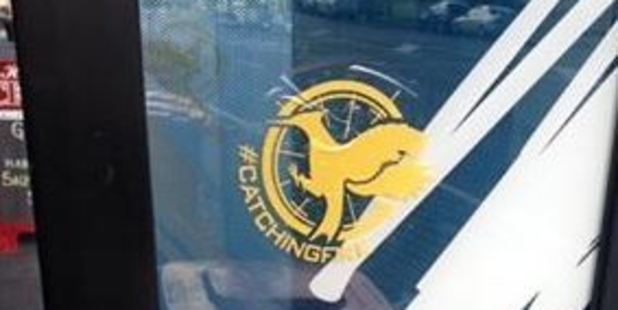 "When is a tag not a tag? When it's a corporate doing some 'street' advertising," says Nick. "There are over 50 of these yellow Catching Fire logos on one side of Jervois Rd alone [I stopped counting] including buildings, lamp-posts, and wheelie bins. It should be easy enough for Auckland Council to track down the film company involved, since they're so hot on taggers - right? The stickers don't peel off. And why does the film distributor feel the need to do this - it's not like the film won't be a box office hit without defacing the streets, is it?"
Bad start for stressed-out Pilates disciple
"My Mum, who is in her early 80s, recently needed an urgent ambulance one weekday morning," writes Nigel. "My parents' unit is one of five with a narrow shared driveway, in St Heliers. It took time to stabilise her and the ambulance was in the driveway for upwards of 20 minutes. During this time their Lycra-clad neighbour was huffing and strutting up and down past the ambulance both hands on her hips.
She eventually came and thumped on the door and demanded that my Dad [now distraught with fear for the wellbeing of his wife of 50+ years] have the ambulance moved as she was very late for her Pilates class. Well I hope she never has the misfortune of throwing her hip while pulling a half lotus - imagine if the ambulance needed to block the carpark and rudely inconvenience others in order to get her out!"
Kuwaiti spammer a sitting duck for reply
Andrew writes "I would have turned the tables on the spammer and replied ... " Dear Kuwaiti Murder Agent, the joke is on you. I am a cyborg 007 ninja space assassin who has been paid by your poodle Fifi to go back in time and kill your cat. If Loopers and Back to the Future are to be believed (and I'm pretty sure that they are based on true stories), then by the time you read this, your cat will be down to three legs, and will be fading away limb-by-limb. The only way you can stop this untimely demise of Snowball is if you deposit US$100,000 into my Nigerian bank account. By the way, as a Kuwaiti you're coming off as ungrateful for what my country did during Desert Storm. If it wasn't for my country and all of our infidel allies (including the Great Satan, America), you'd all be speaking Iraqi and wearing giant moustaches. You're welcome. You have four days to get me that money."
Apple gives dogs something to sing about
"We have two dogs, Buddy and Holly," writes Dave of St Mary's Bay. "They are both obsessive compulsive ball chasers. Recently, at the park, we encountered a man who was eating an apple and the pair of them hassled this man no end. They could not figure out why he would not throw the 'ball' for them and was instead eating it!"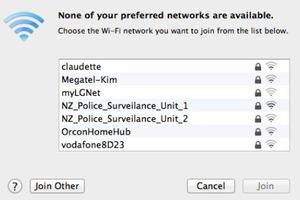 Video: This kiwi guy gets home from his OE and pranks his parents by dressing up as a Jehovah's Witness .
The kids today: Taking a selfie photo at a funeral... Or the even more macabre selfies with their own heart .
Video: A deliciously surreal experience awaits you. Just press play...
Got a Sideswipe? Send your pictures, links and anecdotes to Ana at ana.samways@nzherald.co.nz