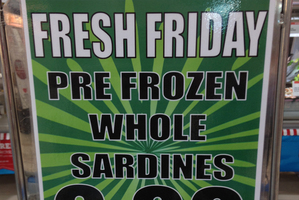 Basil's off-colour squawks
A swearing parrot bought by a British couple has embarrassed its new owners by constantly insisting: "I'm in the valleys". Basil the African Grey delivered his first verbal volley within hours of being given a new home. He announced himself with a polite "hello" but when new owner Sarah Fisk replied, he promptly told her to "**** off " with an accent straight from his previous home in Wales. The bird then started squawking "I'm in the valleys" followed by a tirade of expletives. Said Mrs Fisk: "His previous owners had said he had sworn in the past, but I thought that a change of scenery would leave that behind - not a chance." (Source: Telegraph.co.uk)
Commenters' hate speech skews views
Every site has, to some degree, a problem with commenters spamming the page with hate speech - usually a moderator has to read all the comments and reject the offensive ones. This week Popular Science announced it was shutting down comments for good on all future web articles, saying they "can be bad for science".
In a recent study, University of Wisconsin researchers had people read a phoney blog post describing the pros and cons of a new piece of technology. Participants then read either combative comments (Sample: You're stupid if you think this is a good product) or civil ones. They found that the uncivil comments "not only polarised readers, but they often changed a participant's interpretation of the news story itself". The Onion satire site doesn't allow comments but readers can still engage with the content through social media. Some sites like sports site ESPN require commenters to log in through their Facebook profiles, the theory being that stirrers are less inclined to troll if no longer anonymous. (Via The Week magazine)
Paying the water bill on a high
A Deltona Water office in Florida was evacuated after a customer handed a cashier an envelope with a white powder in it. The Sheriff's Office and the Fire Department responded. The powder was tested. "Interestingly enough, it was crack cocaine," Sheriff's Office spokesman Brandon Haught said. It appears he was trying to pay his water bill with the drug. (Source: Neatorama.com)
Palming off the future
In Japan, those devoted to palmistry (foretelling the future through the lines on the palm) can now alter their fate with plastic surgery. Dr Takaaki Matsuoka, a leading practitioner, prefers an electric scalpel over laser surgery, which more often eventually heals over, defeating the whole purpose. He must be careful to add or move only the lines requested by the patient (eg, "marriage" line, "romance" line, "financial success" line). (Source: News of the Weird)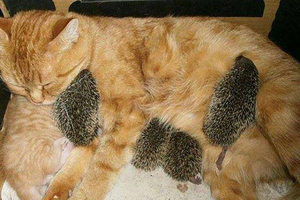 Picture this #1: Problem with autocorrect censoring is, it can invent completely new All Blacks ...
Picture this #2: A reader writes... "two hours after the final Americas Cup race I found myself parked behind this vehicle...."
Geek: How the Internet generation announce their engagement; with a collection of wonderful movie-themed couple photos
Video: Ok, this is an ad, but it's for Mercedes Benz, so really playing it is hardly a free ad because none of you can afford one anyway...
Got a Sideswipe? Send your pictures, links and anecdotes to Ana at ana.samways@nzherald.co.nz