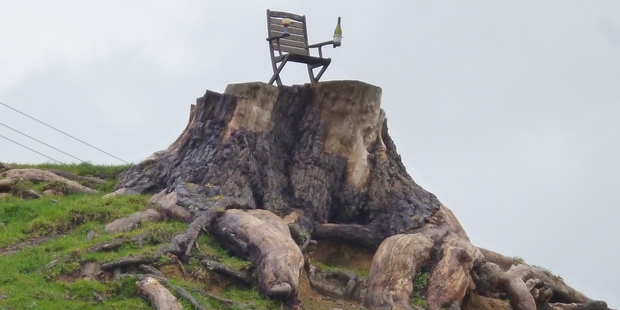 A relaxing spot between Wainui and Waitoki north of Auckland.
Apocalypse sperm bank
There's an apocalypse sperm bank in Colorado that is ready to go just in case we suddenly lose all of our beef and bacon. It houses over 700,000 samples from 18 different species. "Let's say another foot-and-mouth disease comes along, killing off our cows," says Dr Harvey Blackburn, repository co-ordinator. "We have the ability to repopulate entire breeds." (Via Quiddity)
Moment of self-reflection
It may be disconcerting for men to see their reflection in shop windows as little old men and women glimpse their mothers in the mirror, but what about this poor female reader: "Coming back from a visit to Wellington on an exceedingly hot day, I was drowsy at the wheel, so stopped in a carpark at Pokeno for a little snooze. Reclining my seat and leaving Miss 4 in the back seat armed with a spray bottle of water, a comb, and some hair clips. She was very busy while I was asleep. Fresh from my power nap, I sat up and put my driving glasses on, ready to drive again.
I glanced at myself in the rear view mirror. Looking back at me, hair neatly slicked back and well clipped down, was the spitting image of my father!"
More on mouse disposal
"Early on in my working life my boss asked me to come into his office and quietly pull the rubbish bin away from a corner of his room. I didn't know why but I duly obliged. Crouching behind the bin was a mouse. Next thing my boss threw his Steel Designers Manual (a hard cover book of well over 1000 pages) down on top of the mouse, killing it outright. Picking the book up we could see blood had come out of the mouse's mouth and gone over the back cover of the book and on the carpet. My boss wasn't unduly perturbed and cleaned up the blood, but it certainly put me off my lunch that day."
Ford car lovers and ageing women find common ground ... sort of
Rob writes: "A female friend who in their professional life helped people deal with the consequences of menopause spotted a group of young lads in a battered car with the plate HRTSUX and was somewhat puzzled as to what these young lads would know about Hormone Replacement Therapy, but agreed regardless that it did suck. She was somewhat embarrassed subsequently to be informed that the car in question was a Ford and the HRT stood for Holden Racing Team."
Confusion on a plate
"A local personalised plate had me confused too, confesses another reader. "WEDLVR was ahead of me and all I could think of was 'Wed Lover' or 'Weird Lover' etc. It was only when I drew alongside the vehicle and saw the New World logo that I realised it was actually "We Deliver".
Picture this: Douglas photographed this in the Sunday school corner of Culross Abbey in Scotland. "Works for me, certainly trumps intelligent design," he says.
Trade Me: Possessed putter, sound like an excuse to me...
Video: UK department chain H&M pulls headdresses after complaints of cultural insensitivity. Next it'll be the beret...
Video: Do exactly what the guy says straight away...
Got a Sideswipe? Send your pictures, links and anecdotes to Ana at ana.samways@nzherald.co.nz