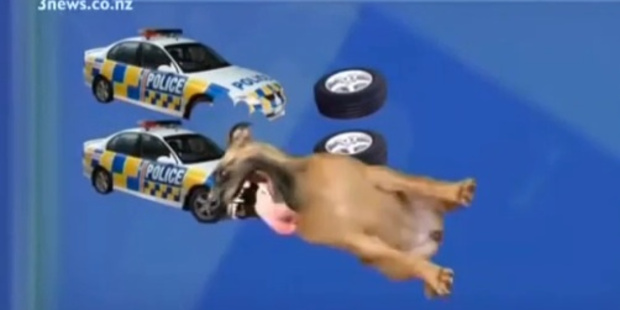 A graphic from a 3 News story about a dog named Bruno, which aired here nearly two years ago, has gone viral this week appearing on the Huffington Post under the headline 'Dog Attack Animation May Be Worst News Graphic Ever' ... Although some astute commentators are saying it is the best! The low-tech graphic shows an animated bull mastiff attacking one police car, then a second and then having a go at an animal control van, puncturing four tyres overall. It clearly aids the explanation of the sequence of event. A local news show in Chicago that played the clip on air said, "that's big budget stuff right there" but we say a nod to Monty Python is always a good thing in our news broadcasts! Full story about here
Future comes into sharp focus
An international team of researchers has created the first telescopic 1.17mm contact lens that gives the vision-impaired the power to zoom their vision almost three times.
It is essentially a bionic eye that allows eagle-eye vision. (Via BoingBoing)
Chalk and ... jeez
A San Diego man is looking at jail time for using washable chalk to protest against the banking industry. Jeff Olson is being charged with 13 counts of vandalism for writing anti-bank slogans on footpaths outside three Bank of America branches. Olson admits he wrote, "No thanks big banks" and "Shame on Bank of America" but for him it was about free speech, not vandalism. "Always on city sidewalks, washable chalk, never crude messages, never vulgar, clearly topical," he said. However, the judge said the case had nothing to do with free speech and so the jury could not consider his right to free speech when deciding his fate. (Source: CBS8.com)
Reason for bins being missed is a rubbish one
A reader writes: "The Auckland Council has a new rubbish contractor to collect the bins. But none of the bins in our street, Renfrew Ave, have been emptied. The council's excuse when I phoned them: 'The new contractor has had staff away sick'. Okay, that happens but in all the years we've lived here the bins have never been missed before. I'm hoping it doesn't happen again."
Airline sees the light
Indian budget airline GoAir has decided to recruit only female cabin crew in a bid to lighten aircraft and reduce fuel burn. GoAir has 330 cabin crew members, 40 per cent of whom are males. Every additional kg on board costs about 5c per flight hour. With a female flight attendant weighing about 15-20kg less than a male one, Go expects to save up to $650,000 annually. (Source: Newser.com) Things that don't go well together.
Humour:One woman, with two averagely dressed sons, found a lovely imaginary daughter on Pinterest and named Quinoa....(The painfully obscure names she comes up with for her daughters friends are bang on)...
Picture this #1: Would you pay $725K for this Three Kings property?
Video: A look at Christchurch, New Zealand from up high....
Picture this #2: Book titles with one letter missing (as created by @darth https://twitter.com/darth)...
Video: Water Baby....

Got a Sideswipe? Send your pictures, links and anecdotes to Ana at ana.samways@nzherald.co.nz