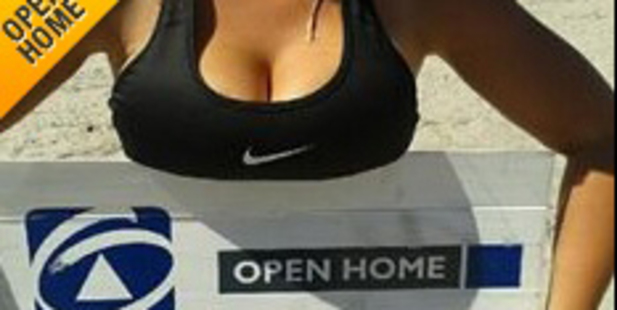 A great pair
In March this ad appeared briefly on real estate listing and its Benny Hill 70s inappropriateness was noted in Sideswipe. Now the Advertising Standard Authority has ruled it was in breach. The lawyer for the agents, Waitakere Real Estate's Gary and Yolanda Atkins, said the photo was a case of "using anatomy as a draw card" which all media are guilty of and claimed it was not misleading as it was referring to a "pair" of properties that were for sale, so it was "factually correct". Yeah, nah.
Council on cover-up mission
Local councils in Northern Ireland have painted fake shop fronts and covered derelict buildings with huge billboards to hide the economic hardship in towns and villages near the golf resort where G8 leaders will meet this month. More than 100 properties have been given makeovers, while others have been demolished, at a cost of around $3 million, RTE reports. At a former butcher's shop, stickers applied to the windows show a packed meat counter and give the impression that business is booming. Across the street, another empty unit has been given a makeover to look like a thriving office supply shop.
Locals are unimpressed.
Door manners rankle
"Is there an accepted door-opening etiquette, or am I just wasting my time?" asks Neil. "If I'm the first through the door I look behind and hold it for those after me. If I'm the last one through, I hold the door so the first one through can proceed on their way. But I'm getting tired of holding the door so a line of people can troop through leaving me still holding the door! Yesterday at the swim-school I held the first door and kids and parents filed through (without a smile or thank you) and I was left holding the door. I turned to go out the second door and the last adult through let the door go in my face! Should I just give up?"
Medical staff with foot in mouth
1. A resident I used to work with had a standard greeting of, "What's up, chief?" As he entered the room of a patient he had never met he asked, "What's up, chief?" The patient happened to be Native American and without missing a beat, replied: "Not much, Custer, how are you?"
2. A few years ago I spent a couple of hours assessing a psychotic patient, and we had just completed past drug history that included cocaine abuse. As I was leaving I asked, "Would you like a refreshment? Coke?" Paused ... "Umm. Not that kind. Coca-Cola!"
3. A fellow nursing student walked into her dying patient's room and exclaimed: "Ugh, I feel like I'm dying, it's so hot in here!" Luckily the family and patient had a strong sense of humour. (Via Reddit.com)
Old news: Reefer madness from a 1927 New York Times...
Picture this: Recreational drug gag salt and pepper shakers (try-hard much?)...
Video: Everyone loves a little Grammar fascism, so here's a few lessons that you probably know already....
Video: Australian media pack ditch one politician for another...
Picture this:Tech Noir is a blog has some amazing cinemagraphs - part still photo part animated gifs, in which only part of the image moves - from famous movies.
Video: 'The Internship' is poised to be the biggest comedy of 2005...
* Got a Sideswipe? Send your pictures, links and anecdotes to Ana here.