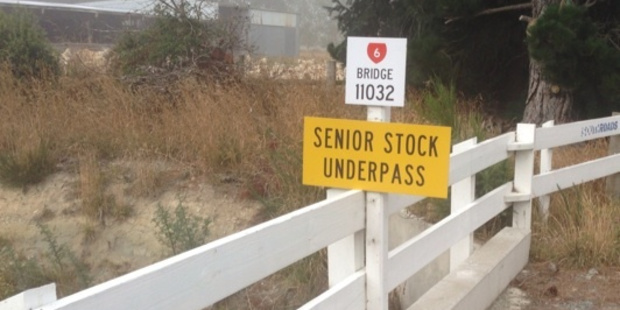 A reader writes: "The Senior family farm, just south of Lumsden on State Highway 6 between Queenstown and Invercargill. All cow underpasses appear to have names and we wonder if this is just for the old cows?"
Gender power struggle blamed for snarky carpark note
"Last Friday a medical appointment required me to park my small Mazda in the adjoining carpark," writes Jim. "The spaces are quite small and the only vacant one had a slightly angle-parked RV on one side and a van on the other. I parked my car centrally in the space and upon my return found a note under my wiper blade. The note read: 'Drivers need space to get into their car. Please don't park people in!' I suspect from the neat printing that the writer is female," Jim continues. "It strikes me also that the writer is one of a growing brigade of bolshie women driving around in vehicles too big for them to manage without tailgating other motorists, and who employ other bullying tactics in their power struggle."
Do not disturb ... the hotel staff
A Thomas Cook survey of holiday complaints included this: "A woman threatened to call police after claiming that she'd been locked in by staff. When in fact, she had mistaken the 'do not disturb' sign on the back of the door as a warning to remain in the room."
Recividist whistler gets marching orders
Robert Smith from Portland, Maine, has a passion for whistling. The 32-year-old believes it is a gift from God. But Smith's whistling has caused such public irritation that he has been arrested and taken to court for disorderly conduct. He has been accused of whistling as a signal for drug dealing, which he denies. Smith is now free to whistle, but only under one condition: A court has ordered him to only whistle while he walks.
Trendy cyclists degrade Parnell
Daphne writes: "I am sick to death of observing the arrogance and non-observance of road rules by groups of cyclists. Each morning my husband and I walk around Parnell and every day we see groups of cyclists three and four abreast riding up St Stephens Ave, holding up traffic, particularly buses which have to slow to a crawl behind them. On Tuesday morning I was particularly disgusted by a group which had gathered outside the Cathedral on Parnell Rd, creating a hazard on the road and on the pavement, and several were clearing their noses and spitting on to the pavement. Clearly there is no room for a handkerchief in their trendy bike gear."
Social media: It's true! Facebook makes you feel bad about yourself. A study reveals Facebook frustration comes from users comparing themselves socially to their peers and not getting enough comments, likes and general feedback compared to friends.
Video: Doug writes: "My wife is a trained midwife and thought it would be useful to use her over-compliant Shih Tzu, Oska, to show her sister overseas how to swaddle a baby."
Classic Clip: Wonderful '80s self help for women trying to meet a man (with bonus re-enactment) ...
* Got a Sideswipe? Send your pictures, links and anecdotes to Ana at ana.samways@nzherald.co.nz