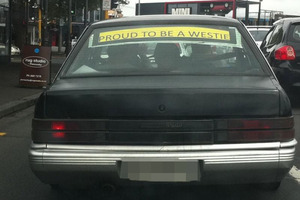 Spotted in Ponsonby.
Picking the right white coat
Wearing a lab coat helps you pay more attention and make fewer errors, according to researchers at Northwestern University, Chicago. They say that people associate the crisp white coat with care and attentiveness, and therefore show "heightened attention" to tasks when wearing one. Researchers gave a series of tests to 58 undergraduates, half of whom wore a disposable white lab coat. Those who were told they were wearing a doctor's coat were more concentrated than those told they were wearing a painter's coat. The researchers concluded that wearing the white lab coat focused their minds, but only when it was associated with medicine rather than artistic expression. (Source: Daily Mail)
Growing national symbols
The feijoa kiwi became news, so why not give the mushroom kiwi its 15 seconds, says Joy. (The Feijoa was auctioned and won by Mike Pero who paid $1000 for it.)
Wrong light for teenagers
Barry Manilow tunes have been used to get rid of hoons from a council carpark in Australia and blasting classical music has had the same effect at railway stations in the UK. But now antisocial behaviour on a Cardiff estate is being tackled by pink lighting. The idea would be to deter yobs from a certain area of shops in the city where there has been trouble. The glow from the lighting is said to be unflattering to teenage complexions.
Pinged just over the limit
Kim from Mt Eden writes: "Just wondering how many other people have been stung recently by the police for exceeding the speed limit by 5km/h? I received a $30 fine in the post today for driving at 55km/h - a speed I consider to be fairly sedate. Is this a case of revenue gathering by the police again?"
Sober stags not welcome
No stag dos: "I had exactly the same experience with a Britomart bar," writes this reader. "It was the first stop on my stag do. We weren't drunk, we also had no costumes or paraphernalia or any sort, in fact we were simply six, thirtysomething mates out for a drink. As we got to the door the bouncer asked with a jovial smile 'Are you boys out on a stag do?' and when he found we were he said, 'No stag dos, mate'. We found a much friendlier establishment down the road."