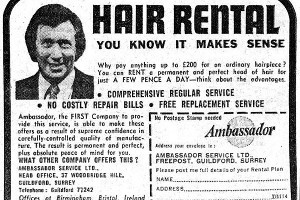 Hair-raising idea - rent a rug (right).
Things We Believed As Kids ...
1. My brother used to dangle a sugar cube tied to a piece of string down my throat. He convinced me that if I had a tapeworm, it would climb up out of my stomach to eat the sugar and my brother would grab it and kill it.
2. I told my kids that McDonald's served only ice water. They thought it was a great treat until their cousins gave them a sip of their milkshakes.
3. Our friends pre-recorded the New Year's countdown one year and played it for their kids at 9pm the next year. The kids happily went to bed and my friends had three whole hours to themselves to celebrate without cranky kids begging to stay up until midnight.
4. My uncle used to hide an egg in his pocket then tickle me until I laughed so hard I'd cry - he'd pull the egg out and I would be absolutely amazed that I'd laid it! I used to tell everyone at school that I could lay eggs ...
5. I convinced my four girls that Pain au Chocolat was filled with olives, not chocolate ... I didn't have to share them for a long time.
6. I always told my kids that the large hay bales wrapped in plastic were actually giant marshmallows ... on the marshmallow farm!
7. I once told one of my pupils, who was biting her nails, that my grandfather used to bite his nails and that one day instead of just biting his nails he carried on until he had eaten his fingers, his hand, and kept going until he had eaten his whole body and all that was left was a pair of lips on his chair. About a year later the little lass came up to me and said, "You know, I'm really not sure if I believe that story about your grandfather." Bless her heart.
8. When our kids were little we sprinkled black olives on our deck on Christmas morning and told the kids they were reindeer pooh.
9. When we were young, our friend told us that cars blew up if they ran out of petrol. On road trips our parents couldn't understand our attentiveness to the petrol gauge.
Many a word said in jest
The story explaining winding roads is not far from the truth, says Paul Phillips: "Land surveyors were paid by the government to lay out many country roads. These surveyors also needed to feed their families. The government drew up a scale of fees for work done. A significant part of their charge was for placing the pegs to mark every corner. The surveyor would have taken but a moment to see how he could increase his payment."