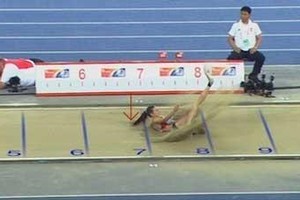 Nastassia Mironchyk-Ivanova may be contemplating a haircut after her pony tail cost her the long jump world title at the World Championships in Daegu, South Korea. The swinging pony tail of the Belarussian athlete hit the ground behind her body on landing and its mark in the sand became the measuring point. The jump was measured at 6.74m which was only good enough for fourth. (Source: Timeslive.co.za)
Strange but true:
1) A private British security firm fired two guards after they attached an ankle monitor to an offender they were watching, but didn't notice that they had put it on his prosthetic leg.
2) Prisoners at New Plymouth Prison are learning to knit. According to TV3, they are making woollen items "with varying degrees of speed and skill" for Women's Refuge.
3) Forget casinos and Celine Dion, now visitors to Las Vegas can play in an upsized sandpit in a real digger.
Hey Jafas, take note
Mike writes: "Sitting outside the aptly named One Tree Bakery (the one with one big tree outside) in Mt Maunganui, I observed three Aucklanders wander past. One of them looked at the name of the bakery and snorted 'that bakery's got itself a bit lost!' Memo Dorklanders: 1. It's One Tree Bakery, not One Tree Hill. 2. Your hill hasn't even got a tree. 3. There are other towns and cities with their own identities outside wonderful Auckland."
Unwanted cliffhanger
A MySky viewer writes: "On Friday night, watching the recorded episode of NZ's Next Top Model, we were disappointed as Sara Tetro said 'New Zealand's next top model is ...' at which point the action froze and the words "end of recorded programme" appeared. How frustrating!"
Give or take 30 years
Peter writes: "The lad who had the wrong date on his 18+ HANZ ID card reminded me of when I entered the Wharf to Wharf race on Waiheke several years ago. My year of birth had been entered as 1913 (the correct year was 1943), making me 97! I was amused to read later that I had won the over-80 age group. Possibly because I was the only entrant."
Feeling the draft
"Draught beer here is Draft beer in the US, so the Sapporo beer is simply following the most powerful nation in the world," writes a reader.