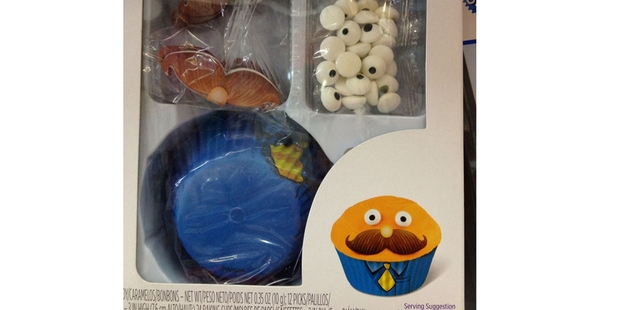 A reader found what can only be described as a Mark Sainsbury cupcake decorating kit.
Govt info-sharing? About time
"I have no issue with the Government sharing info," writes Gene. "It's about time they started. IRD get all my tax and income details, yet the child support department doesn't seem to know about it. Every few months I have to provide them proof, and then get my accountant to verify it, then fill out more forms to prove it. I have even suggested they walk next door and check the IRD files."
Bait cars can trap the unwary thief
Have you ever heard of a bait car? It's a vehicle used by police in North America and Britain to nab car thieves. The vehicles are modified with GPS tracking and audio/video surveillance technology, and can be remotely monitored and controlled. The bait car is often pimped out with visible valuable items and parked in an area known for break-ins. Some say using bait cars is a form of entrapment and thus unlawful.
But they just give criminals the opportunity to steal the car, whereas entrapment requires police to persuade someone to commit a crime they would not have committed otherwise. (Source: Wikipedia.com)
Label too much for this Westie
William has had enough of the "westie" label: "What's with this demarcation of Auckland people? All who live out West are Westies, yet there are no Easties, Southies, Northies or Centralies. Having lived this century in Pt Chevalier, Waterview and now Waiatarua, I guess I could be termed a 'Westie'. But I do not drive a Ford or Holden, I am always well groomed, I earn over $100k a year and I have a modern glass cube of a house. No sandals, no beer in the fridge ... no dogs chained, snarling, to the leafless tree in the barren garden."
Crime is such hot, thirsty work ...
A woman in Queensland returned home to find a burglar sitting by her pool dressed in her neighbour's one-piece swimsuit and sipping a coffee. The 41-year-old, 120kg man had earlier stolen the togs. Cairns Senior Constable Russell Parker said that when the resident found the stranger in her backyard, she was calm. "Luckily she recognised the swimsuit because she's friends with her neighbour and had been on shopping trip with her on the day she had bought it."(Source: The Cairns Post)
Picture this #1: Wondering what to get Judith Collins for Christmas?
Picture this #2: An underwhelming peperoni pizza...
Picture this #3: Dancers doing stuff in real life...
Video: Prank-based marketing is pretty obnoxious - trying to freak people out just to plug something, but this one is a least fit for purpose; the set up involves a woman using her telekinetic superpowers in a coffee shop for Carrie-the upcoming horror film remake based on Stephen King's 1974 novel.
.
Got a Sideswipe? Send your pictures, links and anecdotes to Ana at ana.samways@nzherald.co.nz