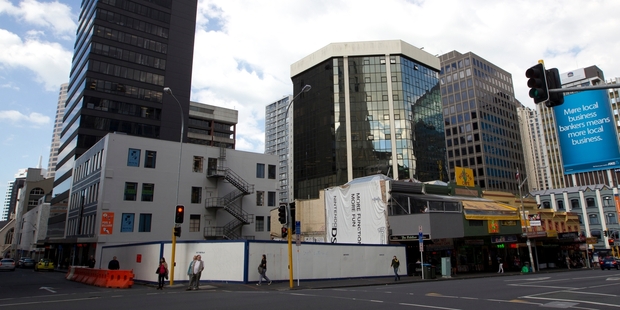 The brothel isn't there yet - but advertisements proclaiming its arrival have already offended. Posters at the site of The Palace, a 15-storey hotel and brothel to be built opposite the Sky Tower, have had messages painted alongside them. Sex-trade barons John and Michael Chow have consent for New Zealand's first tower brothel. The brothel will be built on the site of the demolished historic Aurora Tavern, on the corner of Federal St and Victoria St West. The 124-year-old building was doomed after it started to collapse during unauthorised excavations in its basement.
Twerking record
Most people will now find it hard to keep the image of Miley Cyrus writhing about at the MTV awards (right) out of their minds whenever twerking is mentioned. But it won't be a picture of her next to the dance move in the Guinness World Record books. In New York, 358 people set a record for the most people twerking simultaneously for two minutes. Participants were aged from 8 to 80.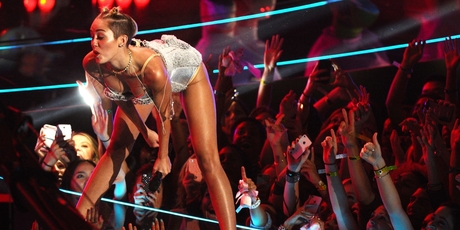 Mustering up courage
NFL player Eric Berry is afraid of horses.
It wouldn't have been such a problem if his team's mascot wasn't a horse that trotted around the field every time they scored. The Kansas City Chiefs player has faced his fears with some bizarre techniques such as drawing horses, playing pin the tail on the donkey, playing with horse puppets and watching horses on television. The methods were captured in a short documentary and, by the end, he mustered up enough courage to finally pet War Paint and overcome his childhood fear.
Welshing on the raunchy stuff
The only licensed sex shop in the Welsh town of Aberystwyth has had to close its doors because the residents weren't "kinky enough". Nice 'n' Naughty, which has 14 other branches across the country, has attracted controversy for its raunchy shop window displays and saucy merchandise since it opened 10 years ago. Director Trish Murray told British media members of the community were simply not queuing up to buy her range of sex toys, erotic literature and skimpy underwear.
New World's Little Consumer: You won't find these products in the official New World Little Shop collectables. For sale on Trade me a line of products mini products for grown-ups, described as "everything a Westie couple needs for a good night in!"
Local: If the thought of mass produced furniture makes you shudder, check out Waste/Not an exhibition of up-cycled furniture by Aaron Thompson - where classic pieces of iconic furniture are renewed and given a modern spin. Combining art and commerce, Glen Eden based Thompson, also operates Refix, where he works with clients who have good taste and sensible budgets.
Video: Why Baby-boomer health is worse than the previous 'Mad Men' generation, even though they smoke and drink less...
Got a Sideswipe? Send your pictures, links and anecdotes to Ana at ana.samways@nzherald.co.nz