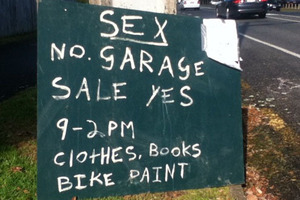 1) Next you'll be able to marry them! Virgin Australia has unleashed Australia's first frequent flyer programme for pets. Nearly 30,000 pets flew each year around Australia.
2) Maryland state troopers caught sight of a drummer rocking out on the shoulder of a motorway near Baltimore one morning in May. The man had run out of petrol and had decided to set up his drum kit to practise while he waited for assistance.
3) A taxi driver in Austin, Texas, has sued the city and five police officers after he was attacked by a drunk passenger. He says the officers forced him to drive the man home after he'd been kicked out of a bar for fighting and that the police regularly force cab drivers to take drunks home.
In defence of tripods
Further to tripod dangers ... Andrew writes: "In regards tripods, the story is even more ridiculous when you consider that Britomart is awash with tourists pulling suitcases on wheels, bean-bags (in summer) and small children running on wet concrete (gasp!) through the fountain. Surely all of these things pose just as great a threat as a tripod.
Outside of Britomart, the biggest hazards I come across are mothers with children at cafes on weekday mornings (so walking from the door to the counter involves dodging pushchairs, toys and hyperactive children) and people walking dogs. Several times I have been running along Tamaki Drive in the dark and have come across people walking on the correct side of the pavement (it is a shared cycleway), but then their dog is on the other side of the pavement, or sniffing around a tree, meaning that the dog-lead forms a two-foot-high tripwire between the dog and owner. And the owners are invariably oblivious to everyone else and usually texting or talking on their cellphone. I would suggest that unlike tripods, these things actually ARE dangerous, especially when hot coffee, and people running or cycling at speed are involved."
Lost and found - and still lost
Update on the lovebird found on the Thames Coast. Ichele writes: "The owner of the lovebird contacted me on Saturday night and the bird was collected today. The aviary had blown over in those high winds we had recently and he had escaped - four cockatiels still on the run."
Crime: A morbidly fascinating look at what executed inmates last words were (includes details of their convictions) as recorded by the Texas Department of Justice...
Buy this: Trophy Wife Trophy...
Everyday Fatism: Same dress, different size and very different description...
Video: Woman crossing the flooded road is determined not to get her shoes wet...
Got a Sideswipe? Send your pictures, links and anecdotes to Ana at ana.samways@nzherald.co.nz