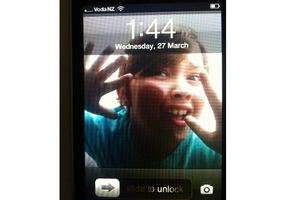 iPhone prank victim
Eli Shaw of Oratia School has been a victim of his mother's prank. How to execute the trapped in a phone gag: 1) Get your child to squash up against a window; 2) Take photo; 3) Set as phone background.
Mr Minit battery rort
Ruby writes: "I was at Mr Minit in Lynn Mall to buy two common button batteries, A544, 6 volts. To my astonishment, they said that was $25 each as that sort of battery is very hard to find. As an ex-Dick Smith employee myself, I knew that that battery was a common one. I went to Takapuna Dick Smith, and BINGO, that was $8 each."
French wine consumption a delicate matter
The French are drinking a lot less wine than they used to. Magazine editor Denis Saverot thinks it's both the cause and the result of an emotional toll: "Just look at the figures. In the 1960s, we were drinking 160 litres each a year and weren't taking any pills. Today we consume 80 million packets of anti-depressants, and wine sales are collapsing ... The village bar has gone, replaced by a pharmacy." (Source: NextDraft.com)
Opinion just too much
The North Carolina House of Representatives Rules Committee took the unusual step of pre-emptively burying a bill to legalise prescription marijuana (which 18 states so far have embraced). The explanation? Committee members were hearing from so many constituents about the importance of medical marijuana to them that the representatives felt "harassed".
Lights for safety
I drive a "road coloured vehicle" and every time I get in that car I put my lights on. Never had any complaints of dazzling anybody and have been in the habit of doing it ever since one day, many years ago, when someone pulled out in front of me ... The person said 'oh my goodness I am so sorry I simply just didn't see you'."
Lights for safety II
"Murray is very wrong," writes a reader. "Leaving your headlights on is far safer. What he probably means is that many vehicles' headlights are misaligned, and hence tend to blind other drivers. There have been a couple of times when I have almost pulled out in front of a motorcycle, purely because I did not see them. Having their lights on makes a huge difference."