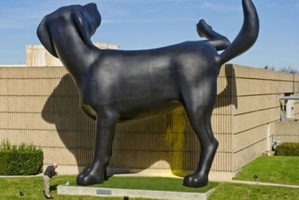 Lifting art to higher level
Artist Richard Jackson installed an 8.5m-tall labrador on the side of the Orange County Museum of Art building in California that intermittently spurts yellow paint upon the building's wall. The 73-year-old artist specialises in the uncomfortable, as his radical works often attempt to rattle human sensibilities.
Post office sticks to letter of law
Neil Stocker lives in Paihia and needed to post a letter to neighbouring Kerikeri. He decided since he was going that way anyway, he'd drop it into the post office, as it was a PO Box address. "I asked the clerk to pop it into the relevant box - about 2.5m away from me - she explained that I had to buy a 70 cent stamp for my letter to be posted properly, taken to Auckland to be processed and brought back up to be delivered to the correct PO Box just over 2m to my right."
Medical centre carparking
Andrea responds to Jim, who complained about the note she left for him about parking too close in the medical centre carpark ... "I parked my car to fit in with the cars beside me. When I returned I found that your car had parked so closely that I couldn't open the driver's door. I have an auto-immune disease and suffer from arthritis in my hips and spine. It is painful to have to resort to climbing over the passenger seat to access the driver's seat. I asked the receptionist to help locate the car owner, but no luck ... Carparks at medical practices are used by the elderly and infirm who find it difficult, if not impossible, to climb over seats. It is therefore extremely inconsiderate to prevent a driver accessing their car after a medical appointment! There was a large sign directing to further carparking down the ramp with larger spaces."
Lost iPad finally handed in
Good deeds - found iPad: "I am the evening receptionist at a CBD carpark in Auckland," writes Georgia. "Someone recently lost their iPad at a carpark my company manages, called Arena Car Park. The owner inquired by phone about it, but the iPad has only just now been handed in. He lost it around February 13 or 14. The battery appears to be dead and I don't have the person's number in the office any more. If it's yours could you please email Sideswipe naming the carpark and provide details of the case and any accessories inside."