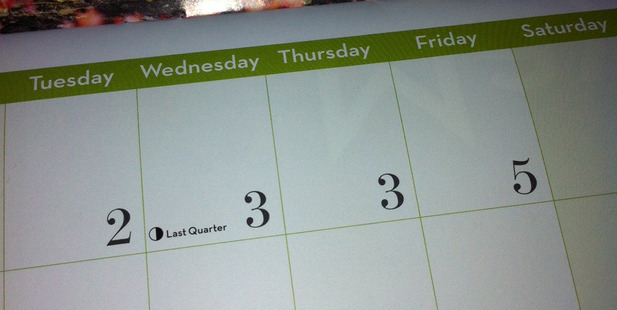 Long-life tomatoes
Lance Steven bought these tomatoes with a best-before date of 2/12/13. "Maybe GE-modified vegetables have already been introduced without anyone noticing? Anyway, as usual, they taste very nice. We expect to finish them around 11 months before their 'best before' date."
Booze-barred visitors
Dan Hodgkinson writes: "One has to wonder at the zeal shown at our local Pak 'n Save. We had two friends from Switzerland staying and they popped in to get a bottle of wine to go with dinner. They were asked for ID (they are 25 and 29), but on producing their Swiss passports and driver licences, were told only New Zealand ID would be accepted. Perhaps Immigration could start stamping visitors' passports, 'Old enough to purchase alcohol in NZ', when they enter the country ..."
Sour taste from sugar boost
Alexa Bartlee writes: "After enjoying a cold bottle of Mac's sour green apple fruit drink, I decided to read the label.
A poor choice of promoting their product as the words included, 'we don't make drinks for the faint of heart. We say sour, with a capital S and two exclamation marks. It will make your eyes squint like a gunfighter and your mouth pucker like a cat's bum. In a good way, of course.' It wasn't sour but sweet, with 27.1g of sugar in it."
Di's secret snap
A previously unseen press photo of an apparently teenaged Princess Diana that a London tabloid deemed too hot to publish is coming up for auction in the United States this month. The black-and-white image came from the photo library of Britain's Daily Mail, which was sold to an American company. Taken at the dawn of the 1980s, it shows Diana, possibly in a ski chalet, smiling at the camera as she lies in the lap of a similar-aged, but unidentified young man reading a book. More intriguing are the words "not to be published" scrawled across the photo with the kind of grease pencil used by newspaper picture editors at the time. On the back, the photo is dated February 26, 1981 - two days after Buckingham Palace announced the engagement of Prince Charles and the commoner then known as Lady Diana Spencer.
Twin mums' double act
Two American mothers who are identical twins had their babies less than two hours apart. The Akron Beacon Journal reports that the 19-year-old mothers Aimee and Ashlee Nelson weren't raised to do things alike and did not plan the births to come at the same time. But Donavyn Scott Bratten was born just after noon on the last day of 2012. Aiden Lee Alan Dilts made his appearance about 2pm. They were delivered by the same doctor at Summa Akron City Hospital in Ohio.