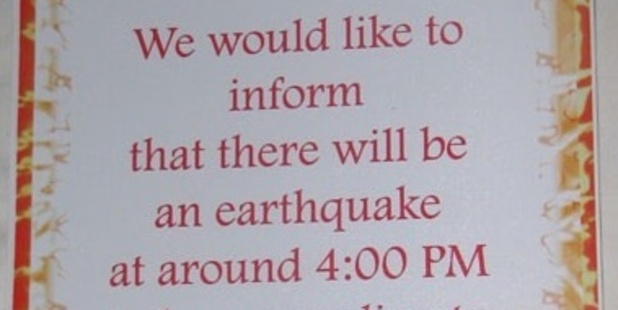 Family unfriendly museum
A visitor to the Auckland War Memorial Museum was refused entrance with her nappy bag/handbag. "The ticket woman got the manager who confirmed it ... yep, too big. When I said I had nothing else to carry my stuff in (and that it had my son's spare shorts and undies and a drink bottle and snack) I was told I wasn't allowed to take this food or drink into the museum. Apparently this includes baby bottles! Their website stipulates no eating or drinking but it doesn't say you can't carry food or drink. And it says they are able to refuse bags at their discretion, although they specifically ban backpacks only. Did they think I was going to let my son smear food all over the glass cabinetry? A nappy bag is not a Kathmandu backpack. I was not going to hide a stuffed moa in it, or knock over a marble statue. Parents of small children have enough difficulties without policies that ensure they have a difficult visit. Get your act together museum management and stop harassing mothers."
Merry crim-bo
Criminals in a Canadian city will be receiving an unexpected Christmas card this year ... from the police chief. The card being sent out this week to "prolific offenders, property offenders, and persons known for drug and gang activity" features the Abbotsford police chief wearing a Santa suit (and a bulletproof vest and helmet) and packing automatic weapons. "Which list will you be on next year?" it asks, and inside there's a number to call if the card manages to inspire any of the recipients to switch over to the "nice" list and turn his or her life around.
Driving instructor fail
"I was driving home down Dominion Rd in Mt Roskill early Wednesday evening and saw a car stop in the bus lane outside Mitre 10. The person who had parked in the bus lane was a driving instructor for a well-known driving school, in a car resplendent with company logos! Could this be the reason so many people don't know the road rules - the people teaching them to drive don't know the rules either."
Incy Wincy mates
Ann-Louise doesn't understand why some people see a spider and are bent on killing it. "Better to rescue it by encouraging it to move away, or use a tissue or cloth to let it walk on to, and then give the poor thing its freedom somewhere else. Arachnids help us by catching flies, etc, and are rather amazing things."
After seeing yesterday's pictures of the Tree People, Crystal, Cookie and Rhonda just had to send one of the Grampa Simpson tree which they can see from their staffroom at Pupuke Early Education Centre in Takapuna.
Local: The unsung hero of TV stuff ups Dan News has released his compilation of the best Bloopers of the 2012. Must watch!
Picture this #1: How to make a baby in 7 easy steps...
Picture this #2: How to cat proof your Christmas tree.
Video: This blinged out Russian wedding video is an excellent example of 'just-because-you-have-the-technology-doesn't-mean-you-should-use-it'...
Got a Sideswipe? Send your pictures, links and anecdotes to Ana at ana.samways@nzherald.co.nz