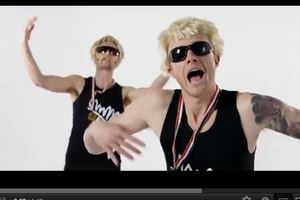 These guys each had mediocre shows on their own, but together? Boom! Brilliant. Here's Jono Pryor and Ben Boyce adding some Olympic pride to the Scibe hit Not Many. (Jono and Ben at Ten - Friday's on TV3).
Global hotness: This 1962 ad for an oil company is quite prophetic...
Media: This what a you call being caught out in your own beat up...
PM goes down south: Increasing his blokeish appeal while depleting the trace of mana he had left, here's John Key reading from the Fifty Shades of Grey trilogy... Egads.

Music: Cleanse your audio cavities with this. Rock Classics played as lullabies...(includes The Smiths and Foo Fighters, but my favourite is Jump, by Van Halen!)
The internet loves the Olympics:
1) Mesmerising gif of the Olympic vault 56 years apart (Larisa Latynina at the 1956 Olympics and McKayla Maroney at the 2012 Olympics, side by side)
2) The littlest diver...
Trends: Microaggressions are described as brief and commonplace verbal serves - sometimes intentional sometimes not - that communicate negative slights on a person/group. These are often subtle. So the recipient feels badly, but it can be difficult to explain why, especially to someone who isn't sympathetic to issues of bias. The Microaggression Project has many examples...Some are obviously offensive, but are some of these reported verbal transgression just a case of people being a bit stupid and inarticulate?