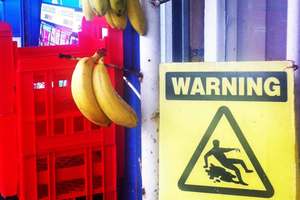 The owner of this banana tree at the Sandringham Rd shops takes health and safety seriously. (Thanks Stich)
Truckie drove watching 32cm TV
Australian police charged a truck driver after catching him driving with a large-screen TV attached to his dashboard. Police stopped a semi-trailer on the 880km Hume Highway between Sydney and Melbourne after reports of erratic driving and found a 32cm wide television screen bolted to the dashboard which obscured a significant section of the windscreen. (Canberra Times)
Musical Youth lose out
A British group which had one of the 1980s' most successful songs, Pass the Dutchie, has lost a legal dispute over royalties. Musical Youth's Jamaican-style track became the fastest-selling British single of 1982. The single sold more than 100,000 copies in one day. But they became later embroiled in a row with their lawyers, claiming they received poor advice at the time. This week a judge found the song was an adaptation of Pass The Kouchie, which was recorded by reggae group The Mighty Diamonds, a Jamaican harmony trio formed in 1969.
(Source: Telegraph.co.uk)
What children don't know...
A reader writes: "Forget shoelaces, my kids are over 20 and just cannot read an analog clock face. We discovered this when they were 14 and tried to teach them but to no avail."
... how to butter bread
Elizabeth says it is common to find children with shoe-tying issues and there are many other things children have no idea about. "I taught a class where children did not know how to spread butter on bread - they stabbed at it with the knife. For the method of 'the rabbit going around the tree and popping up through the hole', begin with tight laces and right over left and under, tighten, then make two rabbit ears and again right over left and under."
Different way of tying
"As someone who didn't learn to tie shoelaces until I was at least 12, I turned out fine with no motor disability," says Dan. "Try teaching a different way of tying - the way that worked for me was to tie the first knot, take two loops, and tie a knot with them."