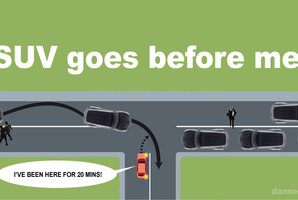 Business as usual in Ponsonby when the new give way rules come into effect on Sunday... And according to Kit Boyes, these are how the rules are interpreted in West Auckland. Meanage! (NB Hover over each picture to read the caption) (via DanNews.co.nz)
Lookalikes: British actor (and Hobbit star) Benedict Cumberbatch looks a lot like an otter and comedian David Mitchell definitely has koala features.
Picture this #1: Photos from a Chinese gangster's lost cell phone. Fascinating.
Picture this #2: Meat art.
Books: The sequel to the not-really-for-children children's book All My Friends Are Dead, is out now and it better than the first. Check out the first ten pages of All My Friends Are Still Dead here. And buy it here.
Social media: Celebrities read offensive tweets about themselves.
This is what the web is for: Cats in camouflage.
Retro: Children of the 70s draw their futures. (Think Jetsons-style housing and TVs 'Lost in Space' robot is running for President)
Video: An awesome time-lapse film of the annual supply ship offloading at McMurdo Station Antarctica, 2012. Due to an unusually warm winter last year, the floating ice pier that is normally used to offload cargo melted badly this summer, making it unusable and a temporary floating pier had to be made.
Quick clip: How not to cut down a tree.
Video: These volunteer firefighters from Minnesota jumped into action to fight fire while wearing ball gowns as part of a charity fundraiser during their St. Patrick's Day parade.