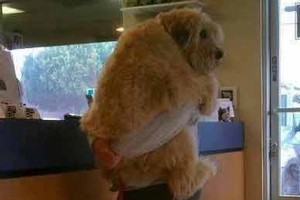 Clinging on tight to avoid seeing the vet. (Via Buzzfeed)
Know that pig, love that sausage
German meat lovers can buy packs of sausages with pictures of the pig that gave its life for the sausage, as part of an initiative aimed at changing the way people think of animals. Consumers can visit a website to look at pictures of the pigs, read about each sow and then vote for the animal they want to eat. The winner gets converted into sausages and other meat products. "I think man has lost touch with his food," said Dennis Buchman, the creator of the Meine Kleine Farm (My Little Farm) initiative. "People eat a sausage like a carrot; without any thought about what goes into it." A farmer involved said: "We have to face up to the fact that we descended from hunter-gatherers. But we must also show respect and reverence for the animals, and think about those that die for us." (Source: www.meinekleinefarm.org)
Let us use a tissue instead
A reader writes: "To the middle-aged lady wearing a pretty plaid headscarf in Pak 'N Save on Tuesday evening: I am a children's nurse. I look after lovely tiny babies who get terrible illnesses and more than often need to be on a breathing machine to survive. Some of them don't survive the influenza and pertussis their little lungs catch. Many of these babies were too young to be vaccinated and caught their illnesses from unknown sources. So when you next choose the LETTUCE SCRAPS BIN to dispose of the green sputum you just spent two minutes coughing up (without your hand over your mouth), could I suggest that a tissue may suffice rather than making your local supermarket a public health risk?"
Explain the Third World
Andrew writes: "I wonder if your correspondent Kip could provide their definition of 'Third World'. The term was originally used to describe any country that did not align itself with either the United States and its allies, or with the Eastern Bloc during the Cold War. Hence Ireland and Switzerland were technically 'Third World'. The phrase then became a synonym for a 'developing country'. I have been to three nations classed as 'developing countries' by the International Monetary Fund, and some of their roads are far superior to many of the unlit, single-lane gravel tracks that pass for state highways here."