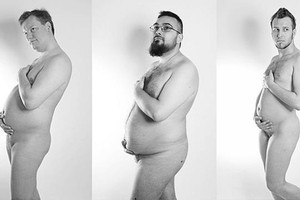 If beer and sausage sandwiches were babies (Via Diary of an Accidental Dad on Facebook )
Local: Rental market gone bonkers? Nah, mate. Look at the luxury $135 a week gets you in Wellington!
Picture this: Corgi camouflage.
Pop culture riffs: The Simpsons 1) Selma and Patty in real life 2) A catalogue of fine art that made an apppearance in The Simpsons 3) Tom Tom GPS now has the voices of Mr Burns, Homer and Marg. Listen here.
Quick sheep clip #1: Rabbit herds sheep
Quick sheep clip #2: Ever seen a sheep cyclone?
Local: Known best for blowing shit up on TV, keen music fan James Coleman has a new project. Mixtape.co.nz is a free (and he says legal) music site where you can "make, share and listen to music mixtapes... just like we did using cassettes - only now you can share it online".
Nostalgic clip: During the 1991 Davis Cup, Robert Seguso yells out "God" after losing a point and God yells back.
Big NZ Seas: And you thought the Wellington aborted landing last week was wild! This clip of Strait Shipping's Suilven was shot making its way through huge southerly swells on Waitangi day 2003. They are the biggest anyone can remember... And this was the one and only ship that came in and went out of Wellington Harbour that afternoon, watch this and you'll see why.
Video: One year old plays table tennis like a king...