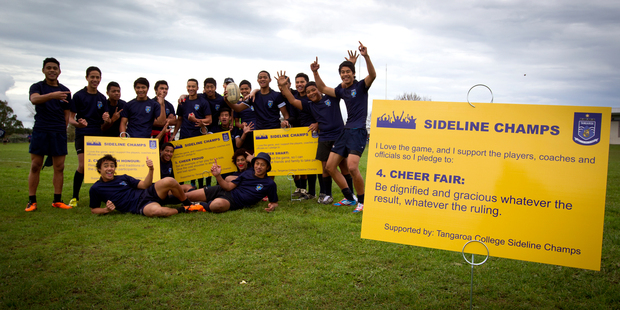 A South Auckland rugby coach likes the Herald on Sunday's Sideline Champs campaign so much, he's adopted it as a motto for his rugby team.
Tangaroa College grade five rugby coach Kirk Jennings had signs made up to encourage good behaviour.
The signs were proudly on display yesterday at the Flatbush secondary school.
"I think it's a great campaign and I thought we could embrace it and do our little bit," he says. "We put the bright yellow double-sided signs up along the pathway at the grounds so people have to walk by them to get to the game. So people will have to notice them and maybe think about how they are yelling and screaming at the kids on the field.
"We're pushing it at our home games and hoping that people will take it back to their own schools."