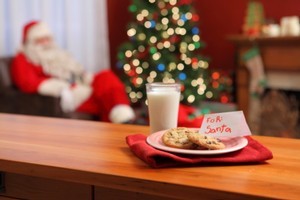 The Tooth Fairy had been the first casualty in the war on mythical creatures in our household and I knew the demise of the Easter Bunny was imminent when my eight-year-old started with the tricky questions one day after school.
"Mummy, is the Easter Bunny real?" she asked. I got the distinct impression that she'd already made her mind up about this and, besides, I wasn't the Easter Bunny's public relations department. I was going to say whatever felt right.
"Do you really want to know?" I asked ominously, even as I realised that was already sufficient answer for a child with suspicions.
"So, let me see ... you want to know if a person-sized rabbit breaks into our house every Easter to lay a trail of miniature eggs leading from your bedroom through to the living room where he leaves a pile of hollow eggs behind the white vinyl sofa? Hmmmmm."
Santa was dispensed with at roughly the same time thanks to knowing whisperings in the school playground.
I'd never been keen on propagating the Santa myth from the get-go. The only reason I played along with it at all was because I heeded advice that my child would be the least popular three-year-old at kindergarten if she went around clarifying the situation for the other children.
I was aged nine when I innocently told my twelve-year-old cousin I'd asked Father Christmas (which is what we called Santa in the seventies) for a Raleigh Twenty bicycle. "Do you still believe in Father Christmas?" she scoffed, prompting me to check with my mother who duly confirmed the traumatising truth.
So having sorted out fact from fiction on various fronts, I shouldn't have been surprised that a religious crisis of faith was next. For a few years, my daughter - thanks mainly to a steady diet of chapel services and religious education at school - seemed to have embraced Christianity along with its attendant hymns, prayers and Bible stories.
I fudged it whenever she asked if I believed in God. "Well, different people believe in different things. The Christians believe in their God and the Hindus believe in their gods and the Buddhists don't really do supreme beings ..."
But when she asked the same question recently, she seemed to have an agenda. My standard reply didn't really cut it. "Okay, do you believe in Jesus then? Because I don't," she said. "It was fine when it was just the baby Jesus but then he started turning water into wine - and, honestly, who can do that?"
Initially I was surprised that she'd become so cynical in such a short time. But then I considered the mixed messages that could be taken from a school that emphasises the traditions of Christianity on one hand while teaching students the power of independent, critical thinking on the other.
I don't hold any hope of resurrection for Santa, the Easter Bunny or the Tooth Fairy but I have a feeling that faith in the notion of Jesus just might yet be restored. I've no doubt the school knows exactly how to handle such moments of doubt in young minds.
- HERALD ONLINE