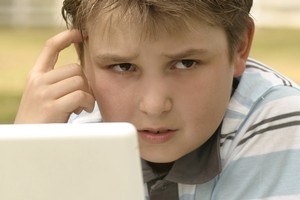 Two years ago I wrote a shameful email entitled 'Mathletics' to my daughter's teacher. It read: "I need to confess that I played some Mathletics last night on Katie's log-in. I'm not proud of beating a bunch of six-year-olds but I couldn't help myself. All the kids in NZ and Australia were in bed by 11pm so I ended up playing against ones from the UK ... Anyway ... I promise I won't do it again!!!"
That's right. The first day my Year Two child came home from school with a Mathletics log-in and password I ended up abusing it late at night. I just couldn't resist pitting myself against the other competitors; all the rapid calculations and frantic typing were kind of addictive. Am I proud of it? No. But I bet there's a lot more of it going on than people like to admit. I mean some of those supposed kids from overseas were seriously fast at arithmetic. I was probably up against some bearded adult mathematician from Perth or Stoke-on-Trent. Don't tell me I'm the only one.
And of course it wasn't just honesty that inspired me to confess to the teacher. I was actually really worried that next time my daughter logged on she'd be automatically shunted into some ultra-elite six-year-old addition-and-subtraction group that would be utterly beyond her.
For the uninitiated, Mathletics is an online arithmetic and mathematics website.
It claims to be "Australasia's most used educational website" patronised by more than 7000 schools worldwide. As well as 'Everyday Maths', in Year Two the children can choose to do 'Counting & Comparing', 'Patterns and Position' and 'Shapes, Objects & Time'.
Users accumulate points, and the top students and classes are listed in a hall of fame. Top classes in New Zealand include Mr Hessey's Year Seven class at Saint Kentigern School for Boys, Miss Ginders' Year Five class at Cockle Bay School and Ms Hull's Year Sevens from Rosehill Intermediate.
Unfortunately for me, on this site you can also choose to test your speed and accuracy against a small group of other budding mathematicians. And this is what I spent an hour or so doing one Thursday night in June 2009.
I've always had a faddish approach to the internet. I dabbled only briefly in Facebook, Twitter and Chatroulette. I harvested my fair share of crops on FarmVille. I retired from YoVille when I spent real money buying virtual furniture for my virtual apartment. The only reason I didn't buy a YoVille virtual holiday home was because I didn't have enough YoVille virtual friends. So tragic on so many levels.
My brief stint on Mathletics - I sure showed those six-year-olds who was boss - was just a classic example of how I approach new online forums. I like knowing how it all works but I don't want to get too involved or make it an ongoing part of my life.
Of course, the difference between Mathletics and my other brief forays into online worlds is that when I retired from the others I didn't have to write an apology note to the teacher.