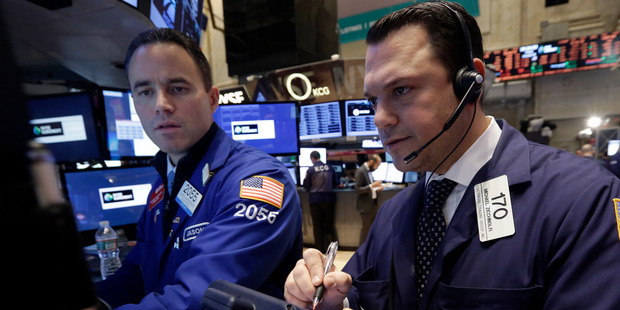 After a long weekend, Wall Street returned with a sombre mood as the earnings outlook from companies including Johnson & Johnson and Verizon failed to justify current valuations.
Shares of Johnson & Johnson dropped, last 2 per cent weaker, after its earnings outlook fell short of expectations.
The outlook reflects "some level of conservatism-in line with historical guidance-given still seemingly weak though potentially stabilising MedTech utilisation trends," Danielle Antalffy, an analyst at Boston-based Leerink Partners, said in a note today, Bloomberg News reported.
In afternoon trading in New York, the Dow Jones Industrial Average fell 0.43 per cent and the Standard & Poor's 500 Index was up 0.08 per cent. The Nasdaq Composite Index advanced 0.43 per cent. US markets were closed on Monday for the Martin Luther King holiday.
Slides in shares of Verizon Communications, last down 2.7 per cent, and those of Goldman Sachs, last down 2.6 per cent, propelled the Dow lower.
"In the short term, continued earnings growth is particularly important," James Gaul, a portfolio manager at Boston Advisors, told Bloomberg News. "We are no longer cheap, perhaps not even fairly valued at this point. Investor sentiment is quite optimistic. We need some positive news to get us going."
Shares of Alcoa climbed, last up 7.2 per cent to US$12.18. JP Morgan upgraded the stock to an "overweight" from a neutral" rating and boosted its price target to US$15 from US$9 per share.
The International Monetary Fund lifted its estimate for global growth this year, predicting the economy will expand 3.7 per cent, up from an October estimate of 3.6 per cent, and accelerate to 3.9 per cent in 2015, according to its latest World Economic Outlook, released today.
Even so, the IMF also warns central banks including the US Federal Reserve against "prematurely withdrawing monetary policy accommodation."
"Strengthening global growth does not mean that the global economy is out of the woods," the IMF said in a statement. "Output gaps are still large while inflation is low, and that fiscal consolidation will continue. The WEO Update warns of underestimating the need for stronger growth, as more balance sheet repair after the crisis is still required."
Separately, the annual PricewaterhouseCoopers survey of more than 1,300 CEOs showed 39 per cent were "very confident" their company's revenues would grow in 2014, up from 36 per cent a year ago, according to Reuters. Some 44 per cent expect the global economy will improve in the next 12 months, compared with 18 per cent a year ago.
Europe's Stoxx 600 Index finished the session nearly 0.1 per cent higher than the previous close, as did France's CAC 40. Germany's DAX added 0.2 per cent. The UK's FTSE 100 inched less than 0.1 per cent lower.
In Germany, investor confidence took a surprise tumble in January. The ZEW Center for European Economic Research said its index of investor and analyst expectations slid to 61.7 this month, down from 62 in December.
However, the IMF is more optimistic about the euro zone's outlook in its World Economic Outlook, predicting growth will strengthen to 1 per cent in 2014 and 1.4 per cent in 2015.
"The euro area is turning the corner from recession to recovery," the IMF said in a statement.