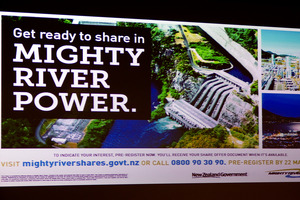 Mighty River Power looks set to have the widest shareholding of any New Zealand publicly listed company, surpassing that of Fletcher Building, Contact Energy and Auckland International Airport, once the Government's partial sale of the power generator and retailer is complete, investment sources said.
No data was available as to the number of applications for shares in the state-owned enterprise lodged by deadline today, but a source close to the transaction said interest had been "heavy".
Rob Cameron at merger and acquisition specialist Cameron Partners - which is not connected with the offer - said he expected the 440,000 or so pre-registrations of interest in the float to translate into around 110,000 formal applications.
"I am expecting at least that level," he told APNZ. Assuming all those who applied get stock, Mighty River will have more shareholders than Contact Energy (75,500) Auckland International Airport (49,500), and the markets' biggest company, Fletcher Building (48,000) will have the biggest share register by far.
The 49 per cent stake in Mighty River has been valued at $1.6 billion to $1.9b, based on the offer documents' range.
The last minute political fuss over the partial privatisation will put downward pressure on the final price paid for shares in the electricity generator and retailer, but it will not drop below the indicative range set by the Treasury, one source said.
Investment banking sources said it looked like Mighty River would be priced at around $2.35 to $2.45 a share, compared with expectations of $2.60 to $2.80 before the announcement last month of the an alternative power purchasing regime by the Labour and Green parties.
An auction-style book-building process - where institutions put in their indicative bids - will start on Tuesday and a final price will be announced on Wednesday. The stock is expected to list on Friday.
One source close to the transaction said he expected there to be plenty of "price tension" when it came to the book-building process, when institutions put in their bids.
"The Treasury is going to be a in a good position heading into next week," he said. "There is going to be pressure on institutions to bid at the right price," he said.
State-owned Enterprises Minister Tony Ryall said the institutions would play an important role in the process. "While the final decision is made by Ministers, the bookbuild process allows us to determine what value the market puts on the company," he said.
The retail offer has been open for three weeks, and was available only for New Zealanders.
Meanwhile, the Treasury is preparing for the next initial public offers (IPO) for Meridian and Genesis Energy. The Government has said it would like see at least one more IPO this year.