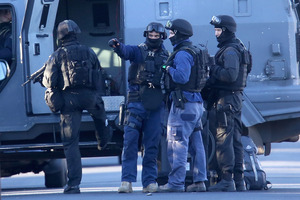 A siege involving convicted rapist Antonio Loguancio at a home in Melbourne is continuing.
Loguancio has been holed up in a house in Justin Avenue, Glenroy, since about 7pm (AEDT) on Friday.
Police say they are intent on negotiating a peaceful outcome and will take as long as they need.
They describe Loguancio as a significant risk to the community after breaching a supervision order by assaulting his partner before going into hiding.
He threatened to harm himself and others after making contact with police while on the run.
Loguancio had been released on a supervision order after being jailed for 12 years for multiple counts of rape, assault and other offences.
It's unclear whether Loguancio is armed.
He is alone in a bungalow on the property and emerged at one stage on Saturday with an object strapped to his body.
Police have been unable to establish if it was a firearm.
- AAP