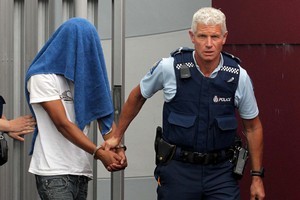 An angry crowd shouted abuse at the teenager accused of attacking a 5-year-old girl, as he was escorted away from the Taupo Youth Court this afternoon.
The 16-year-old youth charged with the sexual violation of a girl at a Turangi campground has not sought bail.
He appeared briefly in court watched on by a gallery filled with family members and media.
Judge Jocelyn Munro remanded the youth in custody for two weeks, suppressing any details relating to where the youth has been remanded. Other details were also suppressed.
The youth, whose details are suppressed, is also charged with aggravated wounding and burglary over the incident on December 21.
He is next due to appear on January 12.
Earlier, the detective heading the investigation into the attack said New Zealand society needed to take a good look at itself.
Detective Inspector Mark Loper spoke at a press conference this afternoon before the accused appeared in court.
He said it was concerning that a 16-year-old could commit such a serious offence.
Mr Loper said he was pleased to be able to tell the family, the Turangi community and New Zealand that an arrest had been made.
The girl, who was holidaying from Europe with her parents and 3-year-old brother, was attacked on the night of December 21 in a caravan at Club Habitat Holiday Park in the North Island town.
She suffered injuries in the attack, which took place while her parents were only metres away in an amenities block and while her brother slept nearby.
The mother had returned to the caravan to find the door locked and saw through a window that her daughter was being attacked. She ran to get her husband but by the time they returned the door was open and the attacker was gone.
In a statement, the girl's parents said: "We are very relieved at this news (of the arrest) and want to thank the police, particularly those who gave up their precious time when they would usually be with their families. We can't thank them enough. They were meticulous, thorough and caring. They are a credit to New Zealand.
"We heard today too that the Turangi community raised more than $13,000 for our daughter. We are again amazed at the generosity of New Zealanders and thank this community. We know what happened was a random act of evil and will never hold Turangi responsible for it. We feel their love and support tonight.''
A trust fund for the girl had today reached almost $52,000, with $13,000 raised by the Turangi community.
- APNZ