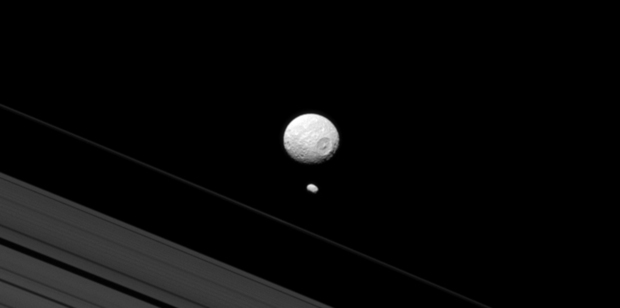 The Saturn moons Mimas and Pandora remind us of how different they are when they appear together, as in this image taken by Nasa's Cassini spacecraft.
At just 81km across, Pandora's small size means that it lacks sufficient gravity to pull itself into a round shape like its larger sibling, Mimas, which is nearly five times larger at 396km across.
Researchers believe that the elongated shape of Pandora may hold clues to how it and other moons near Saturn's rings were formed.
The Cassini-Huygens mission is a co-operative project between Nasa, the European Space Agency and the Italian Space Agency.
The Jet Propulsion Laboratory, a division of the California Institute of Technology in Pasadena, manages the mission for Nasa's Science Mission Directorate, Washington DC.