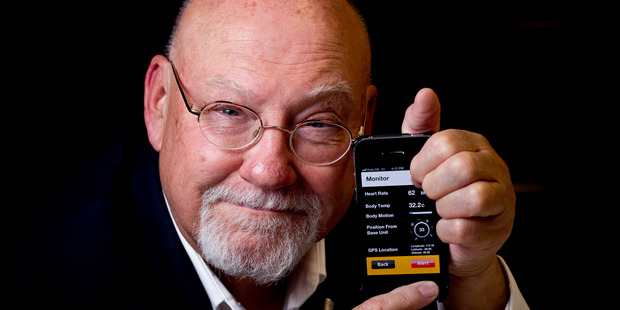 Scientist Sir Ray Avery says his latest invention - a wristband that constantly monitors a patient's vitals and uploads the information to the internet - will revolutionise medical care.
Avery and his team at Vigil Monitoring are developing the device, which should go through clinical trials in October and is expected to be commercially released around the end of this year.
The wristband is designed to collect data including heart rate and body temperature.
This is then uploaded to the internet where it can be accessed anywhere by caregivers, doctors or specialists, including on a smartphone or tablet device.
As it stands, doctors who test patients can only compare the information to what they gathered during a previous visit but 24-hour a day monitoring gives them a more complete picture, the scientist said.
"For the first time there's a practical, wearable solution for gaining that data," he said of the wristband, which is being designed with consumers in mind.
Overseas trials had shown that preventable deaths could be reduced by up to 50 per cent and hospital admission rates reduced by 30 per cent with biometric monitoring, Vigil said.
As well as monitoring health vitals, Vigil is also developing algorithms that can analyse information and alert people to potential medical problems.
"We're data-mining it and doing algorithm analysis to make sure any trends we see that turn out to be reflective of any given clinical condition we can alert you to that and say you should go see a doctor because things are starting to look out of whack," Avery said.
Vigil's revenue steam would come from charging clients monthly monitoring fees, he said.
The personal emergency response market was worth about $50 million a year in terms of monitoring fees.
Avery said his company had already signed a contract with an organisation that provides services to 40,000 people and could enter a partnership with district health boards.
Avery has wider ambitions: "We want to be the go-to-place for biometric monitoring globally [and] biometric algorithmic analysis."
This story has been changed from an earlier version, which incorrectly put the value of the monitoring fee market at $15m a year. It is $50m.