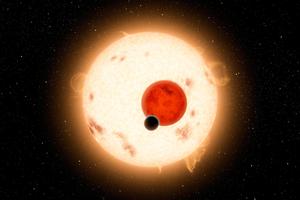 The truth is out there, but when it comes to the search for other planets beyond our Solar System the truth has turned out to be far stranger than science fiction.
Scientists looking for habitable "exoplanets" are astounded by the diversity of the weird worlds orbiting distant stars - some shining like diamonds, others as black as coal.
"We are finding an absolutely enormous range of planet types. It has come as quite a surprise," said William Borucki of Nasa's Ames Research Centre in Moffat Field, California, the principal investigator on the Kepler Mission to find habitable planets beyond our Solar System.
Among them is one that resembles Tatooine, the home of Star Wars hero Luke Skywalker. Kepler-16b has two suns but is not thought to be habitable.
The Kepler space telescope, launched four years ago, has scoured the sky for the faint twinkles of starlight caused as a distant planet passes across the face of its star.
Kepler has so far identified 2740 possible exoplanets, with confirmed planet discoveries numbering 114 to date.
Although there are about 350 exoplanets the size of Earth, none so far has been found in the "habitable zone", otherwise known as the Goldilocks distance from a star, where it is not too hot, nor too cold for liquid water, and hence life, to exist.
The telescope has revealed a remarkably range of planets - far more than theoreticians had predicted at the start of the mission, Dr Borucki said.
While some planets are as dense as iron, with oceans of molten metal, others appear to be feather-light heavenly bodies composed of gaseous or rarefied material, he said.
- Independent